A support ticket will go through multiple teams and support agents during its lifecycle.
Each of the teams and agents working on the ticket perform multiple operations on the ticket, from replying to the customer to adding additional notes and updating ticket properties, before assigning the ticket to another agent.
Given that this ticket might go through many agents and teams, it's important to have a property that accurately captures the stage of the lifecycle that the ticket is in.
To help us achieve this, having additional statuses known as custom statuses comes handy for your business.
As companies are not the same and everyone follows a different support process, they need special or additional ticket statuses to follow the ticket progress.
Ticket status is one of the important ticket fields in Desk365 as it helps define your support operations for your business. It is a part of your default ticket field and helps you manage the journey of a ticket from the time of creation to the point where it gets resolved by one of your agents.
By default, every ticket in Desk365 can have one of the four statuses: Open, Pending, Resolved, or Closed.
With Desk365, you can also create your own custom ticket statuses based on your requirements.
What are the Default Ticket Statuses in Desk365?
By default, every ticket in Desk365 is in one of the 4 statuses:
Open – This is the default status of a ticket when a ticket is created in Desk365 helpdesk. These are tickets that your support team should start working on. Whenever a customer replies to a ticket that has a resolved status, it always moves back to open so that you can take a look at it again and fix any issues, if necessary. 
Pending – An agent can set the status of the ticket as "Pending" when he/she has replied to a ticket and is waiting to get more information from the customer. Sometimes, the agent might need additional information or might need some more time to work on the issue, fix, and confirm the solution for it. It can also be used with tickets that are on hold because of any third-party vendor's dependencies that are not in control of the support agents.
Resolved – When your agents are pretty confident that they have provided the right solution to a customer, they mark the ticket status as "Resolved." Once the customer confirms that the issue has been fixed, the agent can update the ticket status as "Closed".
Closed – An agent marks the ticket status as "Closed" when a customer confirms that the issue has been resolved completely. However, even if the ticket has been marked as closed, it will move back into the open status if the customer replies to the same ticket again.
Note: Default ticket statuses cannot be deleted but can be renamed for contacts if needed.
How to Customize Ticket Status in Desk365
Desk365 help desk comes with a default set of statuses: Open, Pending, Resolved, and Closed on every new account.
However, you can add your own custom statuses to suit your business processes that you follow for your support team operations.
You can access the Settings > Ticket Fields tab in the Desk365 account to view, edit, and manage ticket statuses. You can:
– Create new ticket statuses
– Edit existing ticket statuses
– Use the Drag & Drop function to re-order the existing available statuses
The newly created ticket status fields are now available under the status dropdowns on every ticket, and you can also notice it on multiple places like customer support portal, reports, export tickets, and more.
Understanding Custom Ticket Statuses
Custom ticket statuses allow you to bring additional steps in your support process and helps to manage your tickets better. For example, a ticket might get delayed waiting for specific inputs from your third-party vendors.
You might want to create an additional status field called 'Waiting for Vendor Reply'.
You can create these additional ticket statuses by clicking on the 'Add Choice' button on the ticket status field.
With custom statuses, you also have the ability to decide what should be displayed to the customers when they login to the portal to check the ticket status and the same for your agents. That means you can customize the ticket status as 'Waiting for Vendor Reply' for both your agents and customers for this example. So, when customers login to the portal to see the ticket status and when they notice 'Waiting for Vendor Reply' as their current ticket status, they will understand that it might take more time as external support is required for ticket resolution.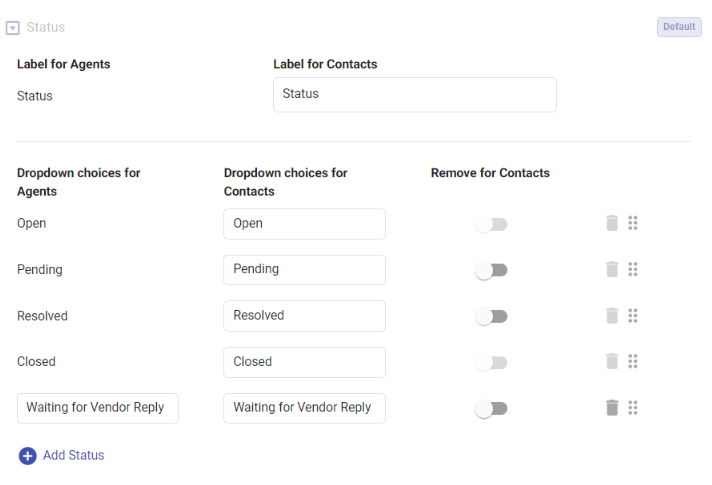 Let's take a look at one more example of custom ticket statuses.
For example, you might want to create a custom field called 'Waiting for Customer', when you are waiting for some inputs from your customers. That means you can show the ticket status as 'Waiting for Customer' for your agents, but when your customers login to the portal, they can see the status as 'Waiting for Your Response'.
Quick Guide to Adding a Custom Ticket Status in Desk365
Login to your Desk365 account as an administrator.
Go to Settings > Ticket Fields.
Click on the Status field.
Under the Status Choices section, you can see the list of statuses that are currently in your helpdesk.
Click on the Add choice button to include a new ticket status.
Enter the name of your new custom status for both agents and customers. You can choose different names for agents and contacts if you wish to.
Click on the Save button to save your newly created Status field.
You can also choose on which channels you want the custom statuses to appear.
You can always come back and delete a custom status by clicking on the Delete choice button on the right-hand side.