Based on valuable customer feedback, we've revamped the SLA module, making it easier to configure and use. In this article, let's go through some of the concepts and show you how to configure SLAs so that they can be easily applied to any ticket. 
When you first create your helpdesk account, it comes with a special kind of SLA called the 'No SLA Policy'.  
Applying the 'No SLA Policy' to a ticket, essentially means there is no SLA for that ticket. If you prefer not using SLAs for some tickets, choose this 'No SLA Policy' as the SLA. Once it is chosen, tickets associated with this policy will show no due dates and other SLA related metrics. 
If most of the tickets in your helpdesk do not need SLA policies associated with them, you could keep the 'No SLA Policy' as the helpdesk wide default and only for specific companies/tickets which require SLAs, you can select the appropriate SLAs.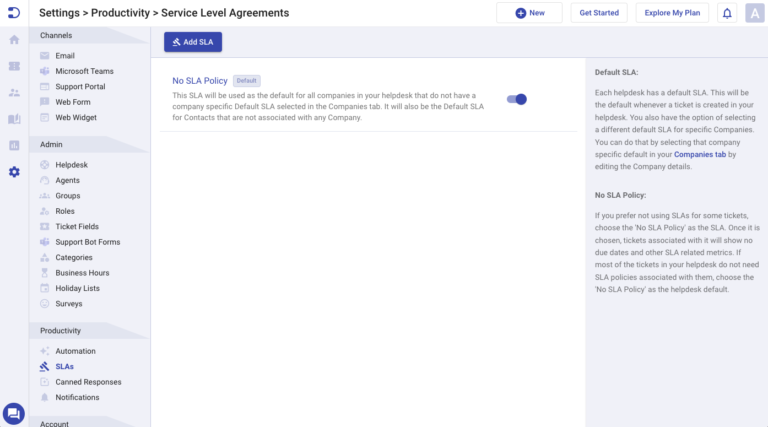 Until you create new SLAs all your tickets will only be applied with the 'No SLA Policy' and hence there will be no SLA related metrics on your tickets. To get started with SLAs, create a new SLA using the 'Add SLA' button in the Settings > SLAs tab.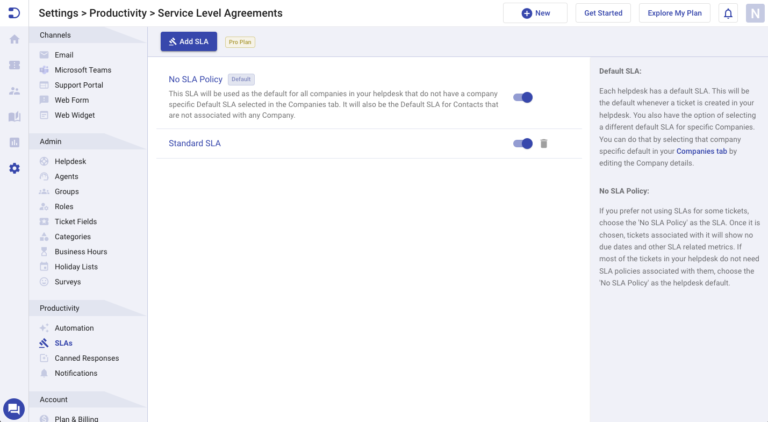 Once you've created an SLA here, you'll start seeing it appear it as a choice in all the places where you have an SLA dropdown. Then, you have the ability to apply this SLA on any of the tickets in your helpdesk. For example, in the image below, you can see the newly created 'Standard SLA' appear as a choice in the ticket's details view.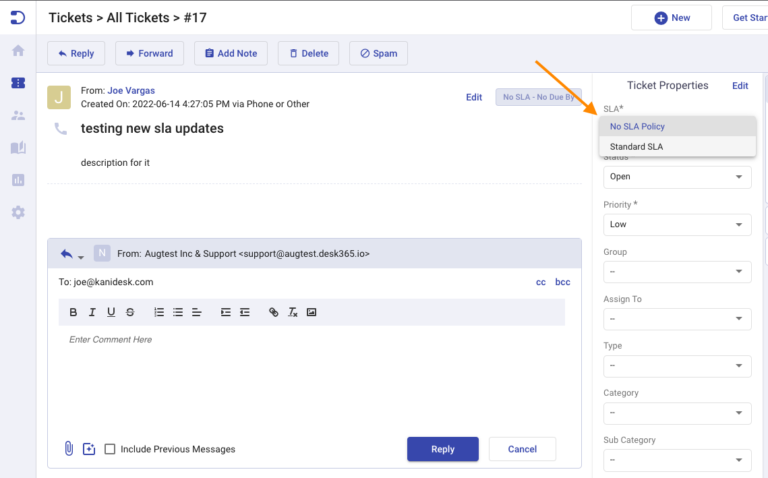 Helpdesk wide Default SLA
Your helpdesk will always have an SLA that is the default for the entire helpdesk.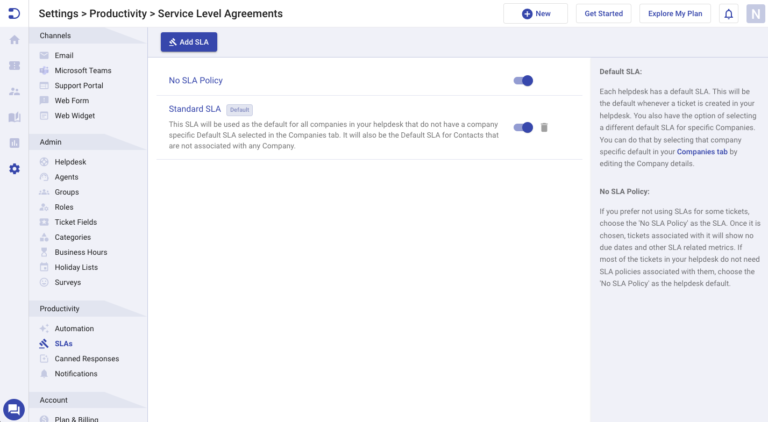 In the example above, 'Standard SLA' is the default SLA. All tickets that are created in this helpdesk will now default to the 'Standard SLA'. You can still choose to apply the 'No SLA Policy' on specific tickets if you wish to do so. 
Continuing with the same example as above, let's now consider a case where you would like a different SLA (say, 'SLA 2') to be applied whenever a ticket is created by Contacts from a specific Company. You can do that with 'Company wide Default SLA'.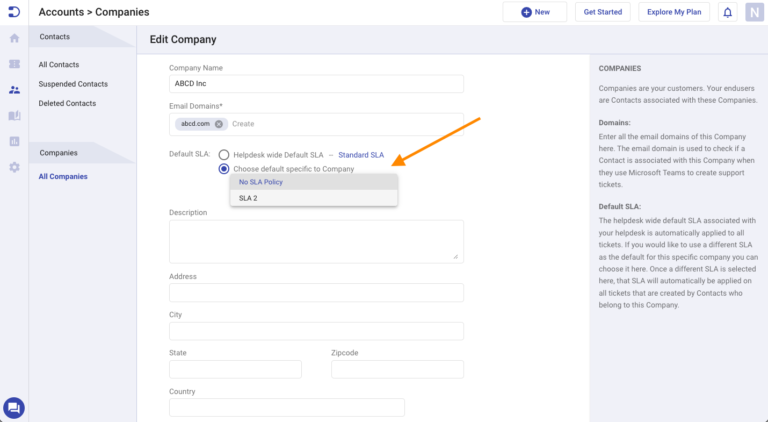 Once 'SLA 2' is chosen as the default for this company, any ticket that is created by Contacts who belong to this company (in this example, anyone with an email domain of abcd.com) is automatically associated with 'SLA 2'.
To conclude, with Desk365, you have a great amount of flexibility in choosing the right SLAs to apply your tickets. You can just go with a helpdesk wide SLA that applies on all your tickets, or use that in combination with company specific default SLAs for important companies/customers. And, you have the flexibility to over ride the defaults and apply a specific SLA for individual tickets.