A key part of setting up your own custom support emails with Desk365 is making sure you've set up the correct forwarding rules so that emails sent to your custom email are forwarded to Desk365. In this article we'll go over how to do this in Office365.
The first step is to identify the Desk365 provided email address to which you'll need to forward your emails. For example, in the setup shown in the image below, the custom support email is support@kanidesk.com and the email to which you need to forward is: support@devtest.desk365.io.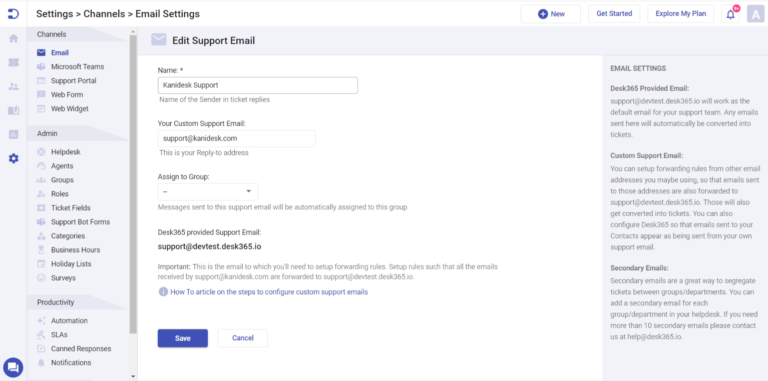 Set up Forwarding in the Microsoft365 Admin Center
The recommended way to set up forwarding is from the Microsoft365 Admin Center. These are the steps you need to take to set up forwarding on your Office 365 account:
1. Login to your Office 365 portal using your administrator account. From the menu on top, click Admin > Exchange to open Exchange Admin Center.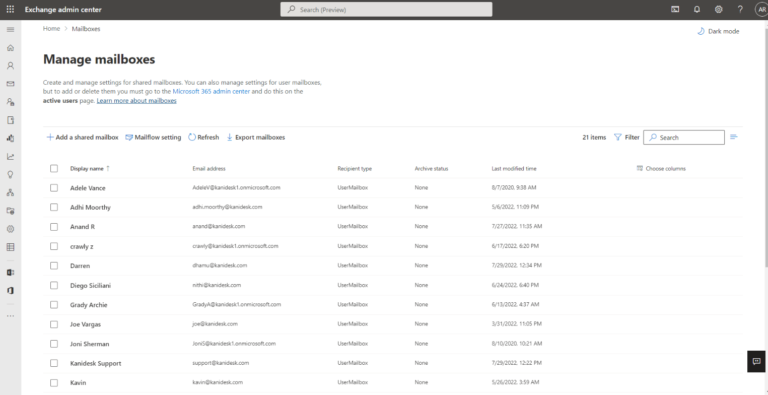 2. From the menu on the left, click Mail Flow to create the forwarding rule.
3. In the Rules tab, click the '+' (plus) button and select Create a new rule.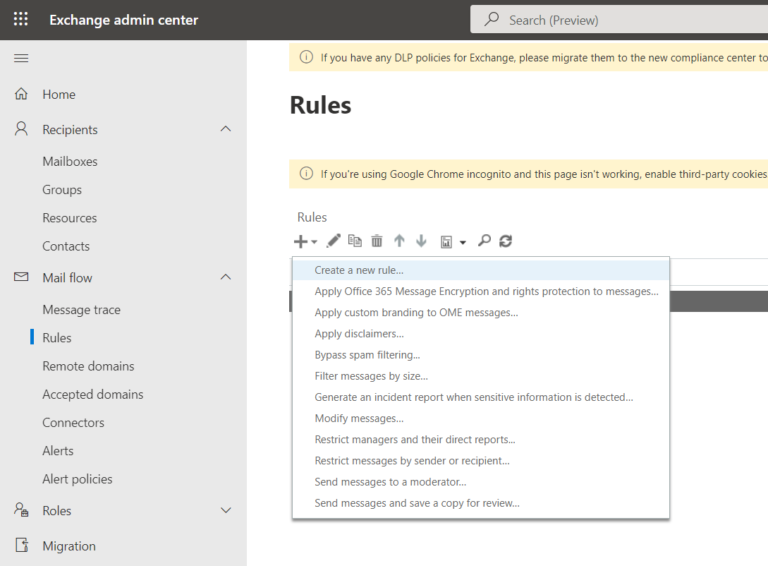 4. Enter a name for this rule. We've given Rule Name as 'Desk365 forwarding rule' for this example.

5. Under "Apply this rule if…" option,  choose: The recipient is.
6. From the next page, select your company's support email address (support@kanidesk.com) and click OK.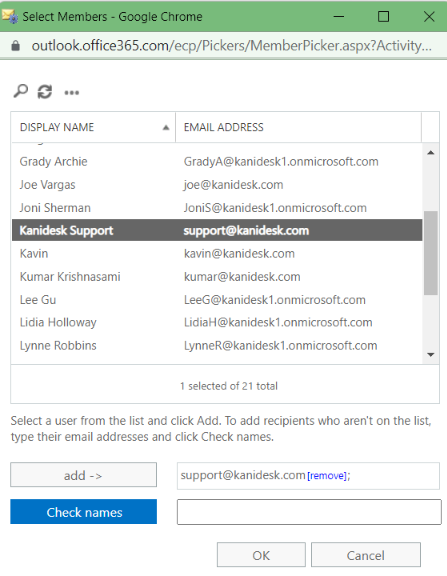 7. In "Do the following… option, choose 'Redirect the message to'.
8. Paste the email address Desk365 provided (support@devtest.desk365.io) and add it in the 'Check names' text box.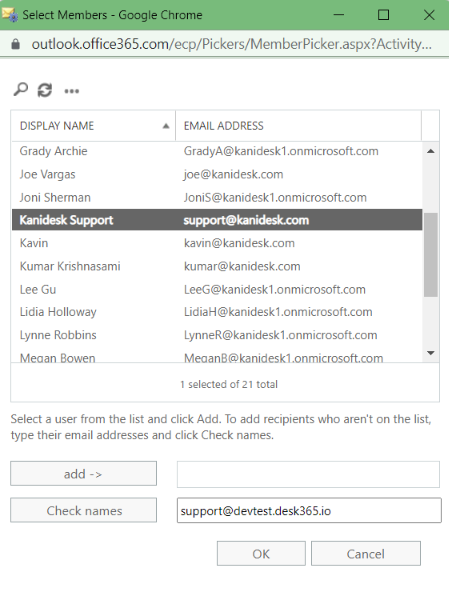 9. Now, click on the check names button after you enter the email address.
10. Click OK to leave this page and then click Save from the previous page.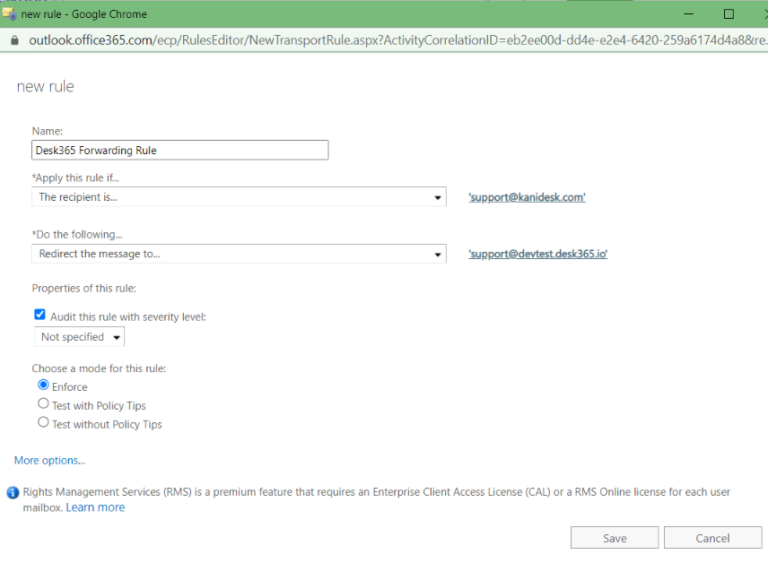 11. View and verify the configured Forwarding rule by sending an email to your custom support email address and check if a ticket is created in Desk365.
Set up Forwarding in Outlook
These are the steps you need to follow to set up the forwarding rules correctly in Outlook
1. Login to your Outlook account.
2. At the top of the menu, choose Settings -> View all Outlook Settings. A Setting dialog box appears on the screen.
3. Choose Settings > Mail and click on Forwarding option.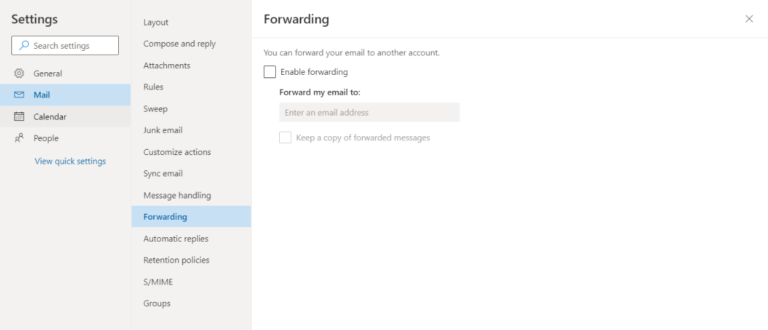 4. Choose the 'Enable Forwarding' checkbox and enter your support email address (support@devtest.desk365.io) for activating email forwarding for your account.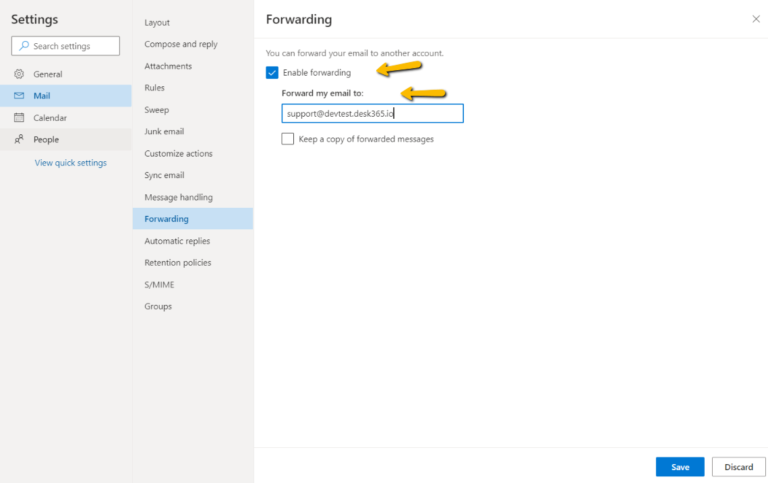 Now that you're done with forwarding, you can refer to our previous article in which we've explained the steps needed to configure your custom support email in Desk365.
Note: Avoid setting up forwarding using the "Rules" option under settings. This results in emails being forwarded with a "FW:" prefix and the Contact not getting set up properly within your helpdesk.