We're thrilled to inform you that Desk365 now offers Right-To-Left (RTL) language support, enabling support agents to provide enhanced customer assistance to end-users who primarily use RTL languages such as Arabic, Hebrew, Urdu, Persian, and more.
At Desk365, we understand how important it is to communicate with customers in a language they are comfortable with. That's why we are constantly striving to improve our language offerings and provide a seamless experience for our customers around the world.
From straightforward enquiries to intricate problems, Desk365 empowers the support team to provide prompt and precise assistance to your valued customers.
Respond to Tickets from the Agent Portal
Suppose an end-user has created a ticket using RTL language, and as a support agent, you are going to reply to the ticket from the Ticket details page in Desk365.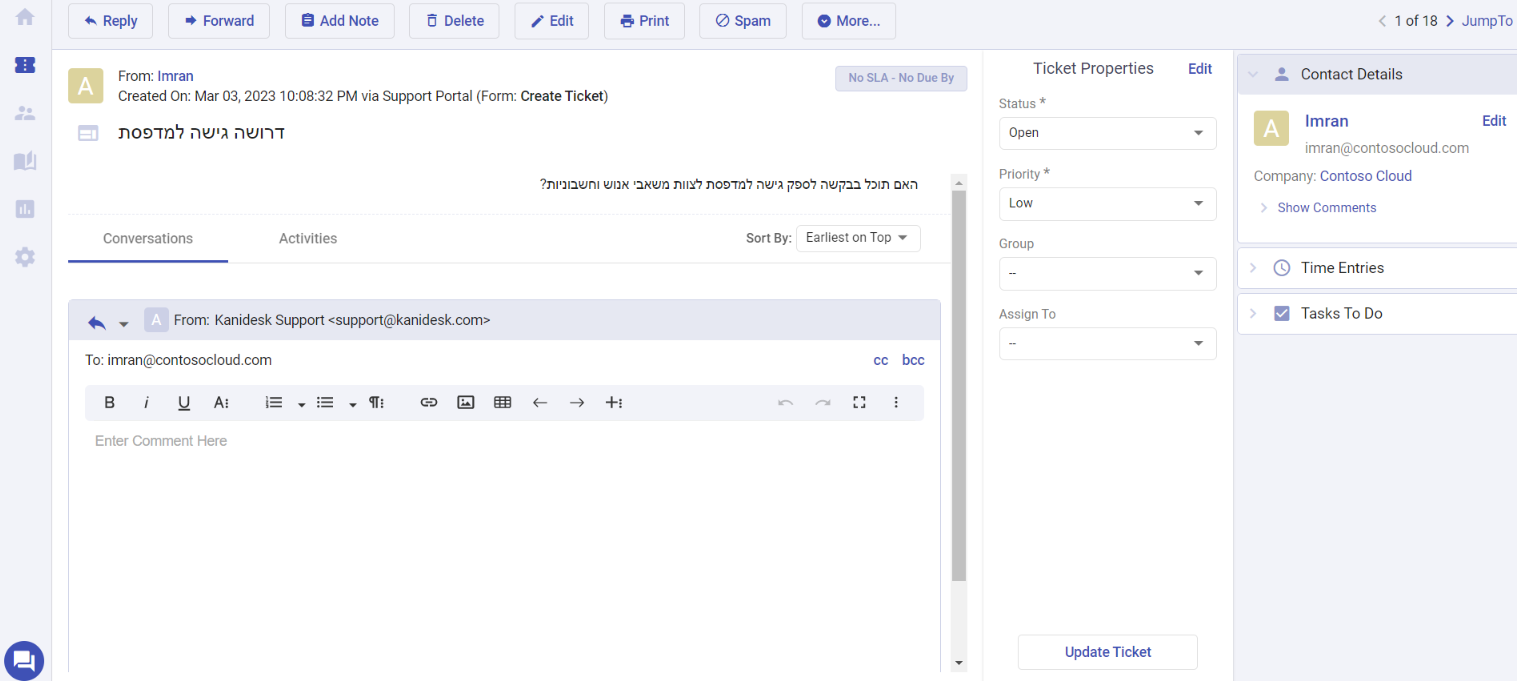 In this scenario, the text editor has the capability to automatically detect specific languages like Arabic, Hebrew, Urdu, and more.
Automatic Detection of RTL Languages
If an agent responds to a ticket using languages such as Arabic, Hebrew, Urdu, and more, Desk365's editor will automatically recognize the language and adjust the text reply accordingly.
In such cases, the editor automatically enables Right-To-Left (RTL) writing support. This ensures that the agent can communicate effectively and makes it incredibly easy for them to reply back to end-users in their native language.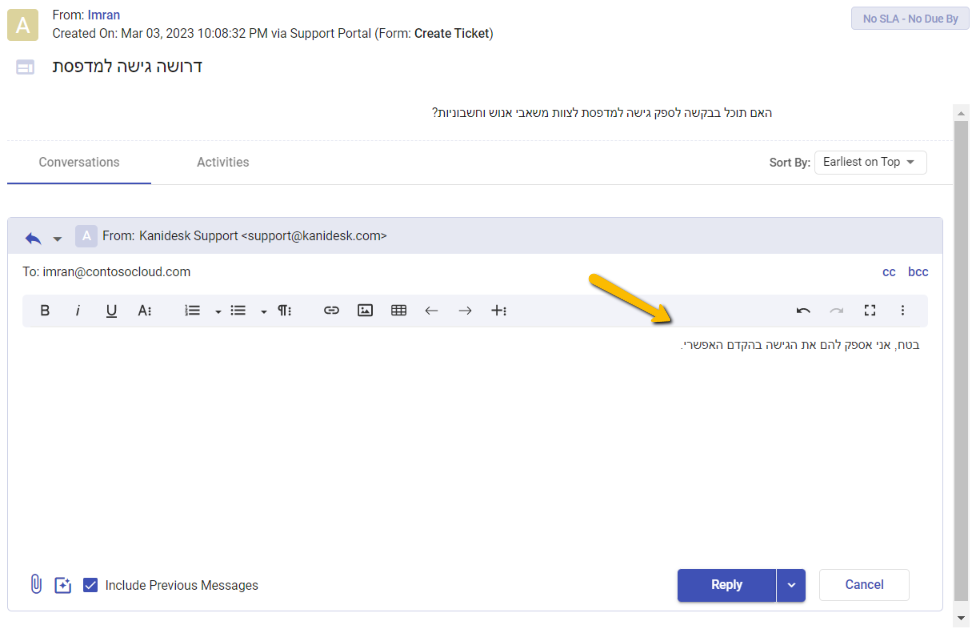 Agents can focus on providing excellent customer support, without having to worry about the complexities of formatting or readability issues. This feature streamlines the support process, saves time, and enhances the overall customer experience.
Option to choose direction support buttons
You may notice that there are two buttons available – 'RTL' and 'LTR' – in the text editor.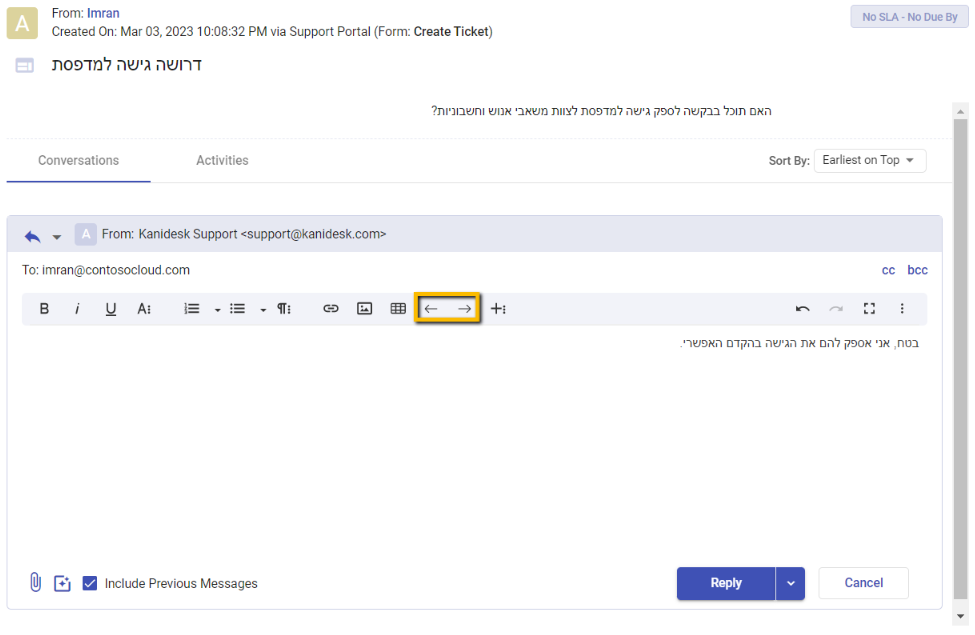 If you're responding to a ticket and typing a message in any of the supported right-to-left languages such as Arabic, Hebrew, Persian, Urdu, and more, Desk365's editor automatically enables the RTL writing.
However, if you prefer to type your message from left-to-right, you can simply click on the 'LTR' button in the editor, and the reply will shift to the left-hand side while retaining the original message.
This feature allows agents to customize their message formatting based on their preference.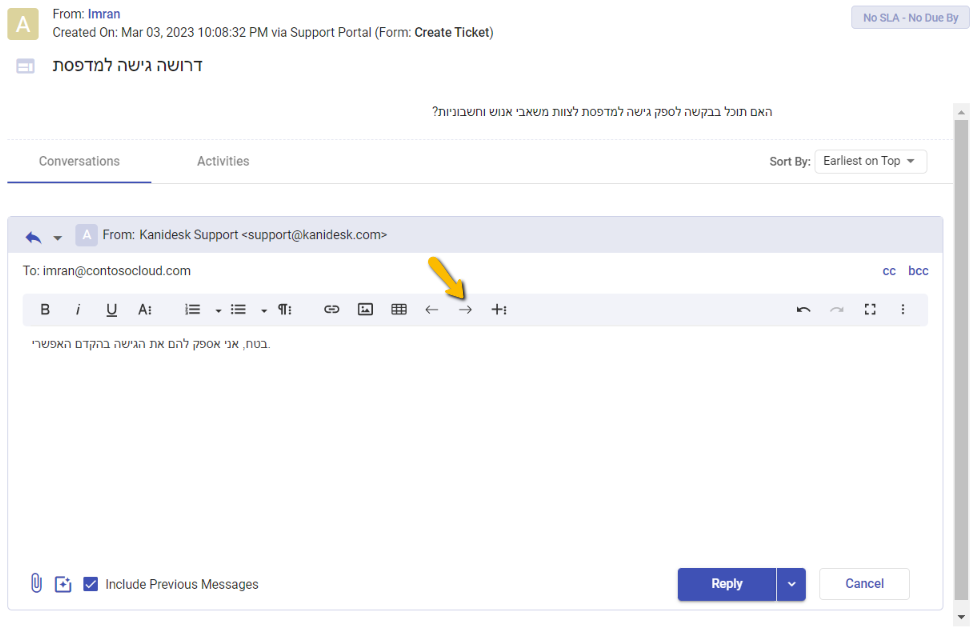 Furthermore, the LTR button in the editor is particularly useful when agents respond to tickets in a combination of English and right-to-left languages such as Hebrew. This button allows agents to conveniently switch between writing directions based on their specific needs.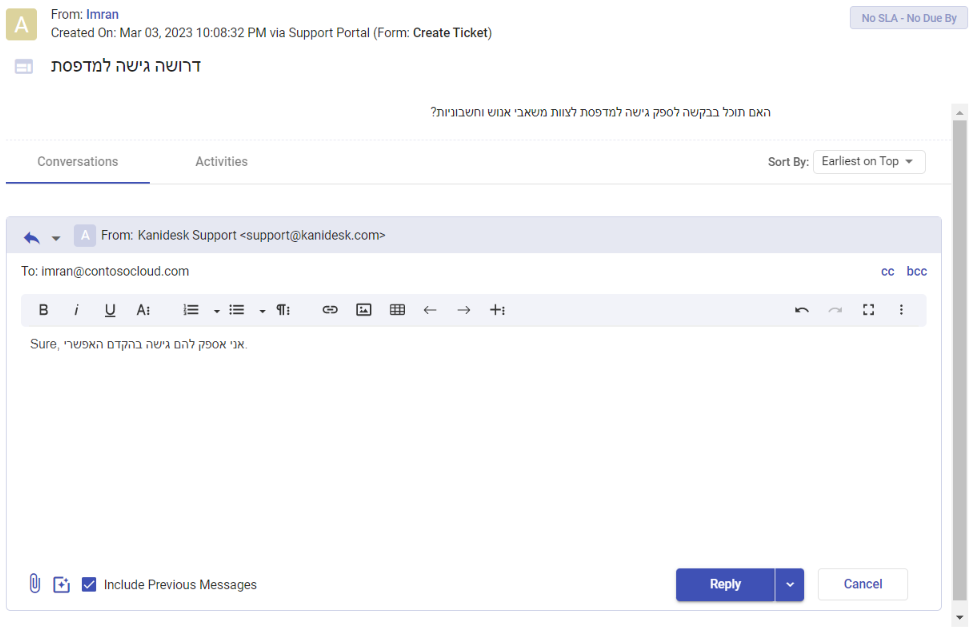 As agents continue to type and respond to a ticket, the text will remain on the left-hand side of the editor and will not shift to the right side unless the 'RTL' button in the editor is clicked.
Once you start using the direction support buttons (RTL and LTR), the automatic detection feature will be disabled.
To activate the automatic language detection for RTL languages in the editor, enabling text replies to switch to Right-to-Left (RTL) writing without manually clicking the RTL button, simply refresh the page or click on any tab or ticket view.
Once you return to typing in the text editor, the RTL writing feature will automatically reactivate.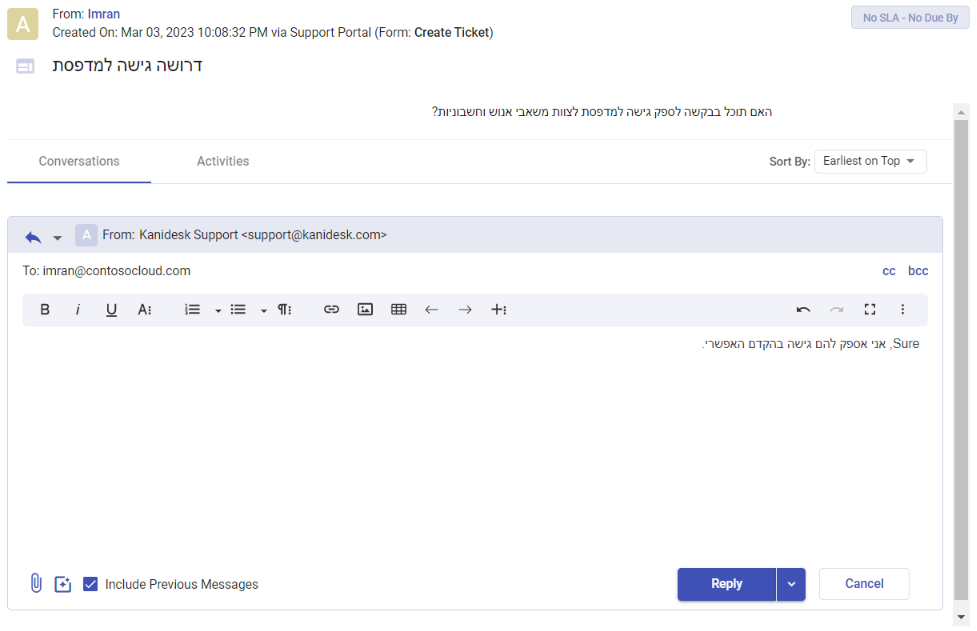 In conclusion, Desk365 now supports Right-To-Left (RTL) writing, providing enhanced communication capabilities for support teams who prefer to communicate in their native languages.
Desk365 has become more accessible to users who use right-to-left languages, thanks to the editor's automatic detection of any of the supported right-to-left languages and the ability to switch seamlessly between RTL and LTR writing.
Overall, this feature in Desk365's editor allows support agents to provide an even more personalized and effective customer service experience.
In addition to this, Desk365 Support Bot has expanded its language capabilities and can now support Hebrew! With this release, you now have the ability to customize the Teams Support Bot and display it in Hebrew language.