This detailed guide for agents serves as a good starting point for your support team when they first start using Desk365.
The Desk365 Home Tab is useful to get a holistic view of the overall performance of your helpdesk. Get all the important help desk metrics such as ticket volume data, ticket statuses, tasks to be completed and view them in a single powerful dashboard.
This customizable Home Tab gives agents a clear picture of tickets that require immediate action and helps them to collaborate with other support agents and improve the team's overall performance.
Helpdesk admins and managers can read this article to learn how to customize the Home Tab.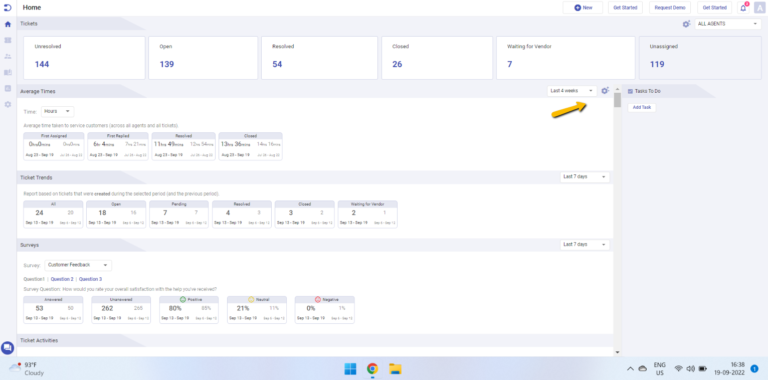 Working with the Ticket Details page
Boost your agents' productivity and reduce the overall time agents spend on tickets by making use of all the premium features Desk365 has to offer for your help desk workflow. Reply to tickets, update ticket properties, notify other agents via comments, collaborate with other members of your support team and internal product experts right from the ticket details page in Desk365.
You can compose your message and reply to your customers by clicking on the 'Reply' button in the ticket's details page. The text-editor has several formatting options available that lets you reply and customize the text in a way that you want to do. You can change font size, color, and background color, and send customers your rich-text replies. You can also change the reply to a 'forward', add cc's and bcc's as required.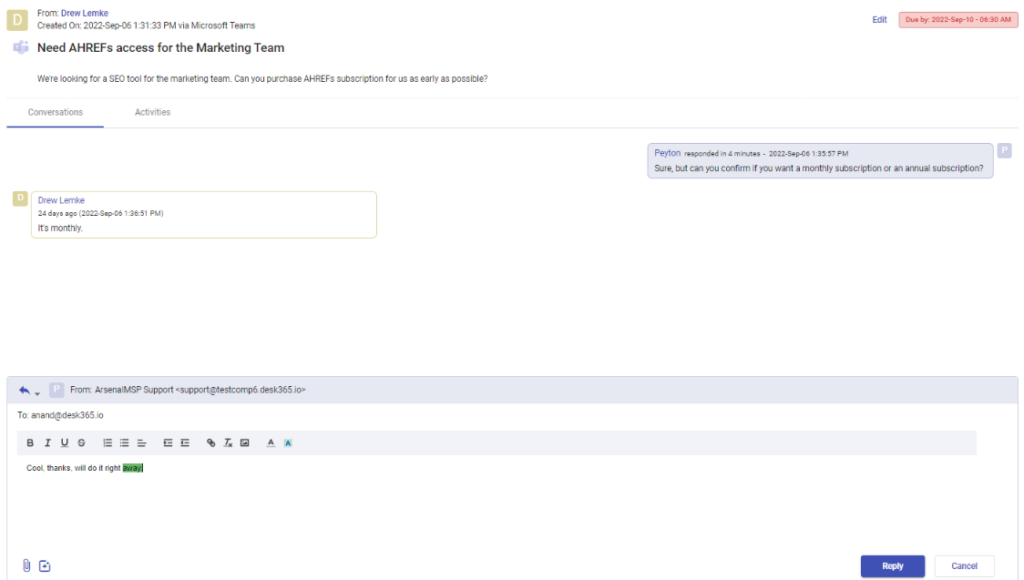 Send Canned Responses in Ticket Replies
You can create several predefined templates that help you provide quick replies to customers for repetitive questions. Canned responses can be set up from the Settings -> Productivity -> Canned Responses tab.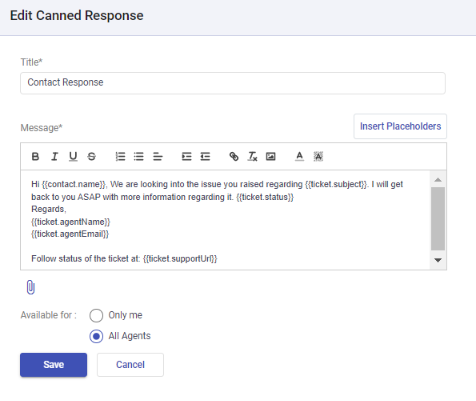 Once created, canned responses can be invoked in the reply editor. Look for the canned responses icon at the bottom left of the reply editor.

Send Images and Files as Attachments
Whenever you need to send additional information for a particular ticket, you can make use of the attachment option that is available in the ticket reply window where you can attach an image or document of your choice. Look for the attachment icon at the bottom left of the reply editor.

Track Time spent on tickets
Desk365 has a time tracking feature that enables you to log time spent on tickets and to report on them. You can enter the exact time spent on a given ticket or use a timer to keep track of it.
It is especially useful when you bill clients for the time you spend working on their tickets.
Click on the 'Time Entries' tab found on the right most column of the ticket details page.
Click on 'Add Time Entry' to enable the time tracking function on a given ticket.
Here's a detailed article on how to track time spent on tickets in Desk365.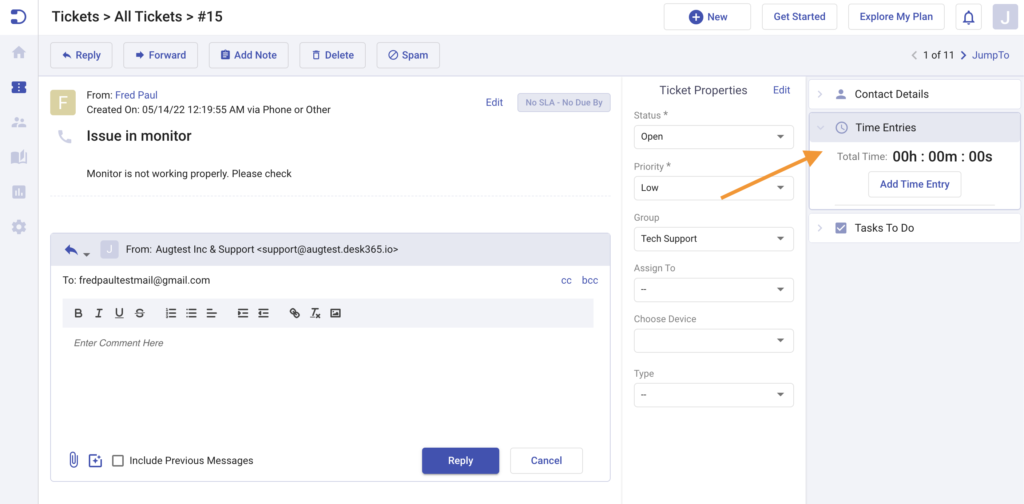 Keep track of ticket tasks
Sometimes servicing a ticket requires several tasks that need to be completed. You can keep track of these tasks in the Ticket Details page. Look for the Tasks To Do panel in the right side of the Ticket Details page.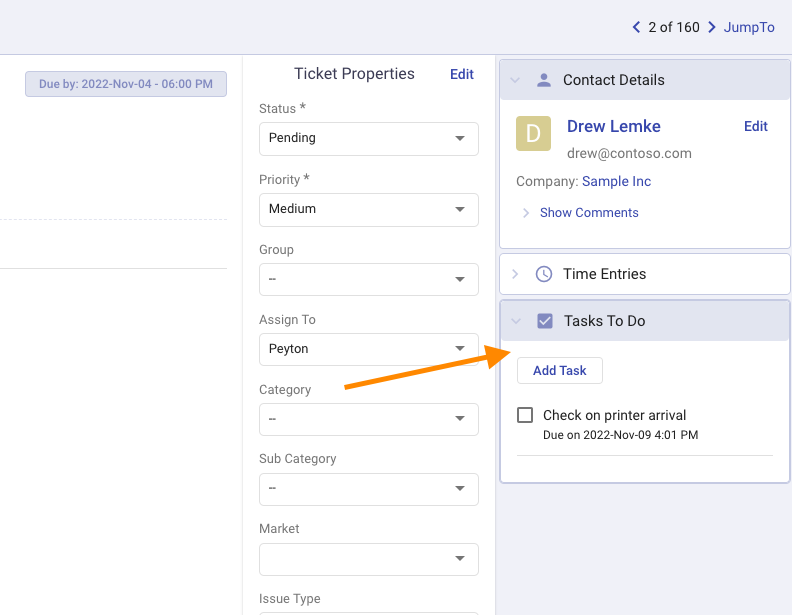 Automatically detect and notify agents at the top of their ticket window when two agents are working simultaneously and replying to the same ticket.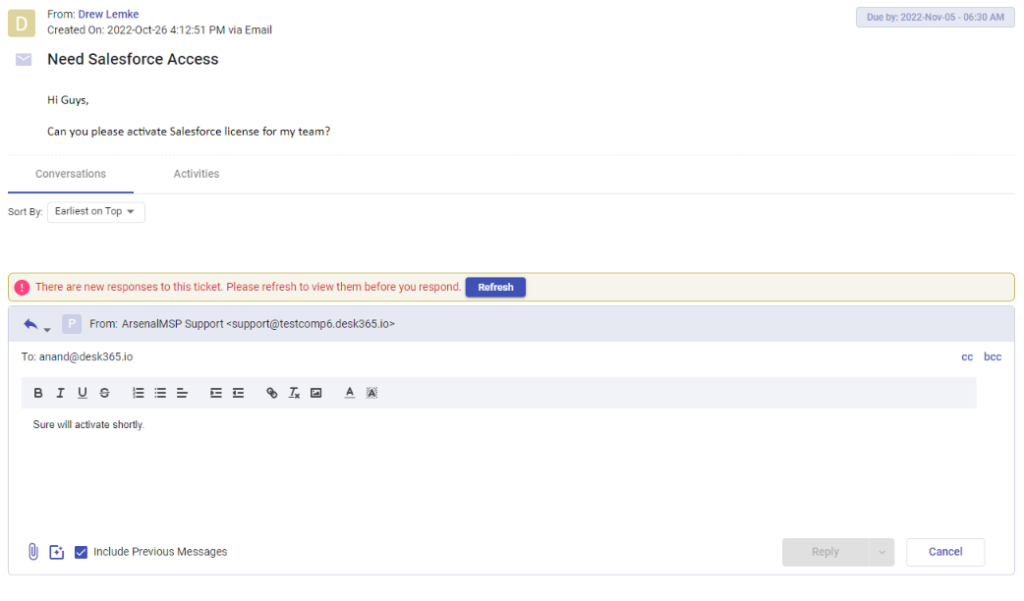 Adding public and private notes to tickets 
Sometimes, customer issues might be complicated, and it can take additional time for ticket resolution, and you might need some extra help in resolving the ticket. That's where adding a private note comes handy for your support team.
Adding private notes to a ticket allows you to communicate the complications of the issue with your other support agents or managers who can guide you in the right direction and help you resolve the ticket faster by collaborating together.
Similarly, you can add public notes to a ticket if you want to inform the customer about something. Notes in Desk365 are color coded to differentiate them from replies so you can easily differentiate between notes and replies as you browse through the conversations in a ticket.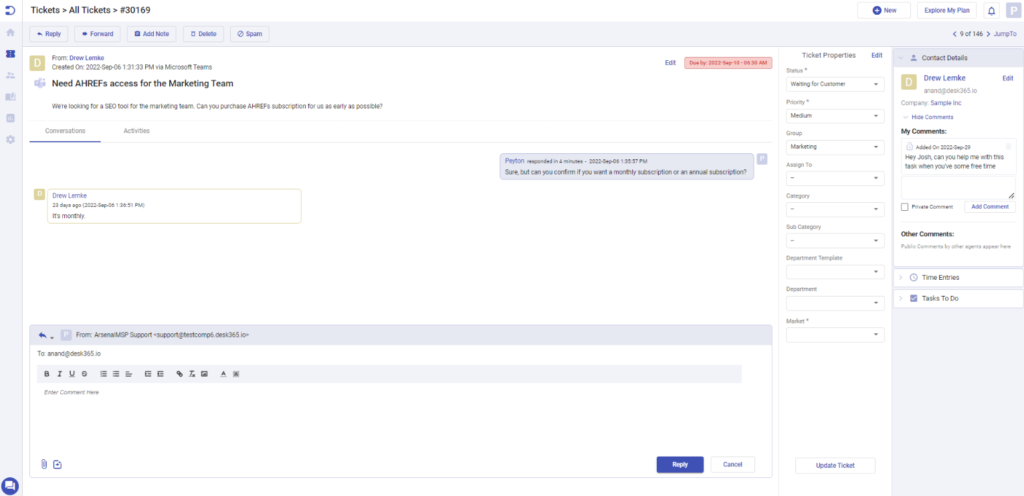 View Ticket Activity History
Getting the context of an issue gets difficult especially when the ticket is not resolved immediately and if a ticket is being worked on between multiple teams in a given organization.
This is where the ticket activities tab comes in handy as you can monitor all the activities associated with each individual ticket at a quick glance.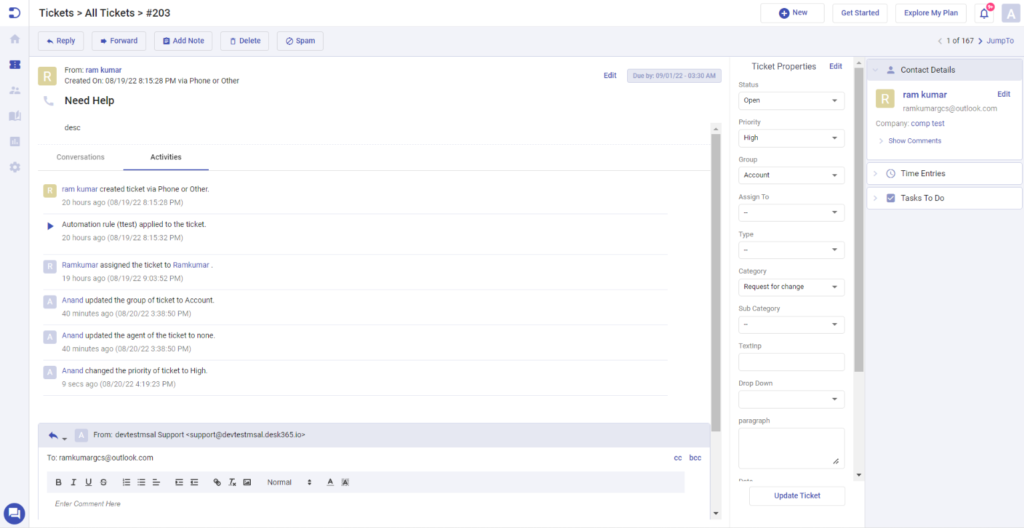 Working with the Tickets List page
Clicking the Tickets tab in the main menu takes you to the Tickets List page. The Tickets List page lets you filter and view a list of tickets that you want to get working on. You can filter tickets by source, channel, status, agents, priority, SLA, and even the custom fields that you have created. You can also hide the Filters column to the right if you want extra space for the tickets list.
Update Ticket Fields Instantly
You can update ticket properties from the Tickets List page by clicking on the dropdowns for those property columns. This is convenient when you don't need to drill into the details of the ticket and just want to quickly update the status, priority, assigned agent etc.

Tickets can be sorted in the way that you want them to be displayed. You can sort tickets by created time, updated time, priority, status, and more.

You can quickly find any tickets that you want to search for by clicking on the search bar.
You can search using different options such as ticket number, subject, and description of the ticket. 

You can select column choices that you want to appear in the ticket list view. You can choose the columns as well as order them so that important ticket properties are always visible when you visit this page.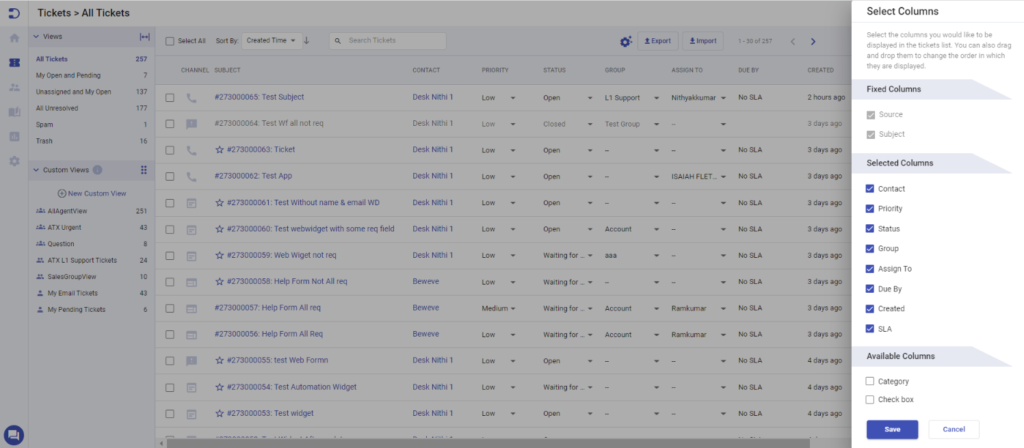 Create Custom Ticket Views
A Custom View can be created every time you make modifications to the filters found on the right side of the tickets list page. Custom Views helps your agents to organize tickets better by grouping them into lists based on a defined set of criteria. You can also share the these views with other agents in your helpdesk.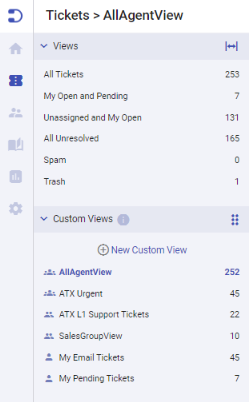 Sometimes, a customer might reach out to you through multiple support channels to report the same issue. Or a same ticket might get created by different people working in the same organization.
In both cases, a lot of tickets are created, resulting in a waste of precious time for you. Using Desk365, you have the option to merge all these similar tickets into a single trackable ticket thereby removing duplicating tickets.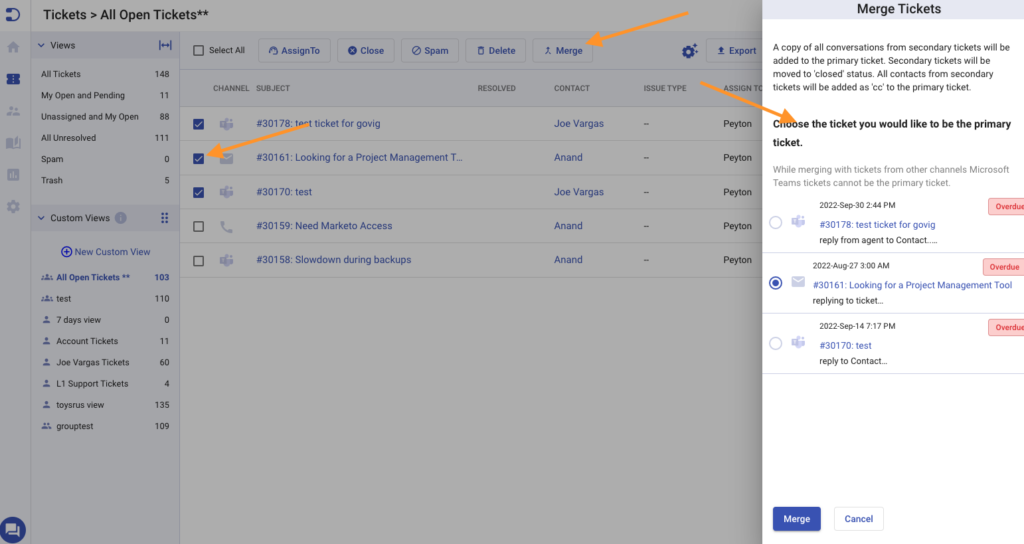 Export tickets with any ticket fields/customer fields that you want to download and view the tickets in an Excel sheet (CSV format). You can export tickets for different date ranges.
Create and share solutions articles with ease using the Knowledge Base. Discuss the solutions articles with the other team members, review them, and publish them together.
Create and have multiple categories for different solution articles which will help customers find answers to some of their questions in a structured manner.
You can also choose the visibility of solution articles. You can choose it to be visible only to agents, to all visitors of your customer support portal, to only signed in users of your customer support portal or even to just users from a specific company.
Having a solid knowledge base will reduce the number of repetitive questions and will make your support team avoid repeated back and forth messages for common issues.
Provide personalized and memorable support experiences for your customers starting today.

This guide gives you an overview of the important day to day features of Desk365. For more complex features or for any questions, reach out to Desk365 Support. You can get in touch with the Desk365 support team by clicking the support icon that appears in the bottom left of your agent portal.