Getting Started With Desk365
A detailed guide that serves as a good starting point to using Desk365. Make use of all that Desk365 offers for your business with the help of this guide.
Setting up your Support Email and Notifications
The first step we recommend you start with is setting up your support email address. Desk365 provides you with a default email ID, support@yourdomain.desk365.io once you create an account with us. This will work as a default support email for your support team.

Any email sent to this primary support email address gets automatically converted into a ticket in Desk365. However, you can also use your own custom support email like support@yourdomain.com. This is especially useful when all your end-users are already familiar with your custom support email.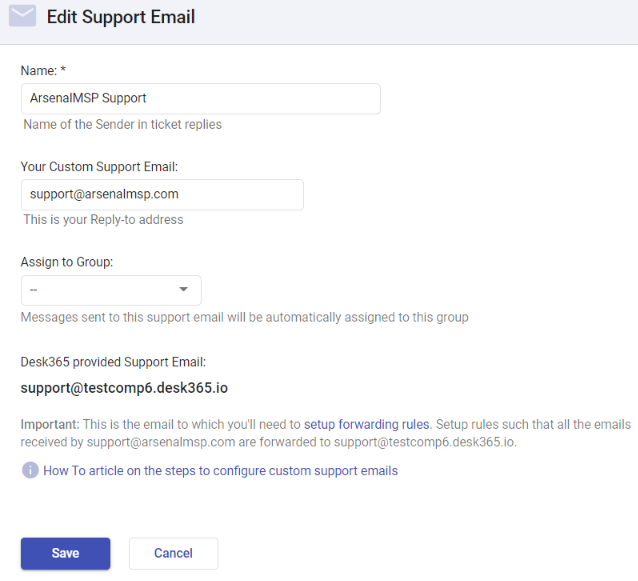 To configure your custom support email, you'll need to set up forwarding rules and grant Desk365 permissions to send emails on your behalf. 
Here is the detailed article on How to Configure Custom Support Email and Set Up Forwarding Rules in Office365.
You can also add secondary email addresses as part of your helpdesk (useful if you want each group/department to have their own email address). You can set up forwarding rules from these secondary email addresses you may be using, so that emails sent to those addresses are also forwarded to support@yourdomain.desk365.io. Those will also get converted into tickets.

To stay updated with your ticket activities, it's important to set up notifications in your Desk365 account. You can enable notifications by clicking on the 'My Profile' settings found in the top right corner of your agent web portal. In the profiles page, you can choose the channels through which you would like to be notified: Email, Microsoft Teams or both. This is an individual setting that can vary for each agent based on their preference.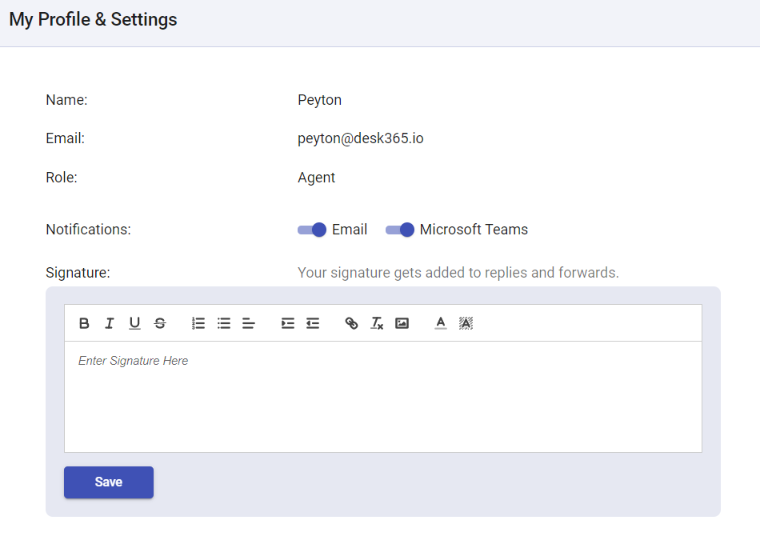 Company-wide settings on which kind of notifications are sent from Desk365 are configured in the Settings > Productivity > Notifications (Admins and Managers have access to these settings).
You can also customize your reply by clicking on the notification links which take you to the message screen where you can configure the email notification templates.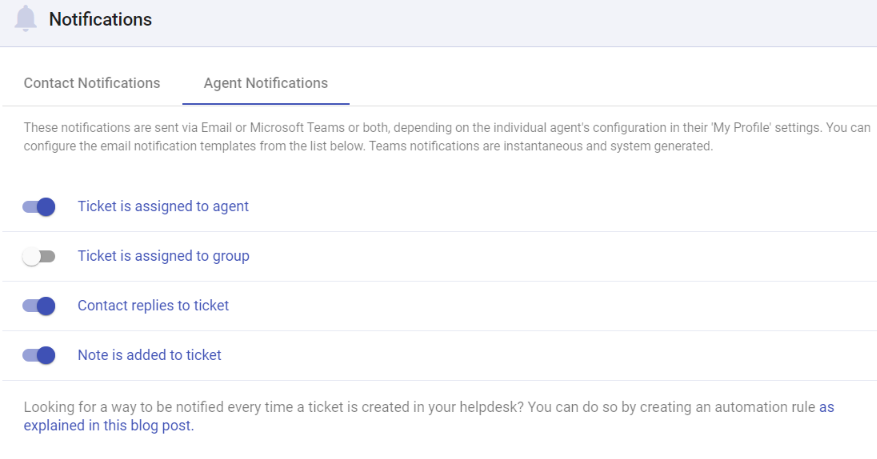 Setting up your other Support Channels
In addition to setting up your support email address, you may want to set up your other channels of support so that you can collect all the support tickets coming from multiple channels in a single unified inbox.
If you're looking for a Microsoft Teams Ticketing System for your business, we highly recommend you install the powerful Desk365 bots designed exclusively for Microsoft Teams – Agent Bot and Support Bot.
So, what are these bots used for? Let's see in detail below.

Using the Desk365 Teams Agent Bot, your support team can reply to tickets, check statuses, update ticket properties, and do more, directly within the Teams interface. This bot is available only for agents(those who service tickets) and is available for free to install from the Microsoft Teams App Store.
Here is the detailed guide on how to install the agent bot.
Using the Desk365 Teams Support Bot, your contacts (employees, help desk agents, customers, end-users etc.) can create tickets, check on statuses, and reply to agents all from within Microsoft Teams. You'll need to download the bot and sideload it once so all your Contacts can use the Support Bot.
Here is the detailed guide on how to install the support bot.
In addition, you can also customize the Desk365 Teams Support bot according to your brand guidelines.
With Desk365, you can integrate a help desk built right into Microsoft Teams. Here is a blog article on how to use Microsoft Teams as a Help Desk.
The customer support portal is a web portal that can be a useful support channel. All Desk365 accounts have it available from the url https://yourdomain.desk365.com/support. We recommend you set up your customer support portal next as it also serves as an important channel for ticket creation.
By default, you'll notice the Desk365 logo and favicon being reflected on the support portal. However, you can rebrand the support portal with respect to your brand guidelines by updating your brand's logo, favicon and theme colors.
Apart from these, there are many more customizations available that you can set-up in the support portal.
Configurations like who can create tickets and view their status in the Support Portal, how you want your users to sign into the portal, and customizable header buttons come very handy for your business.
Here is a blog article on how to configure customer support portal in Desk365.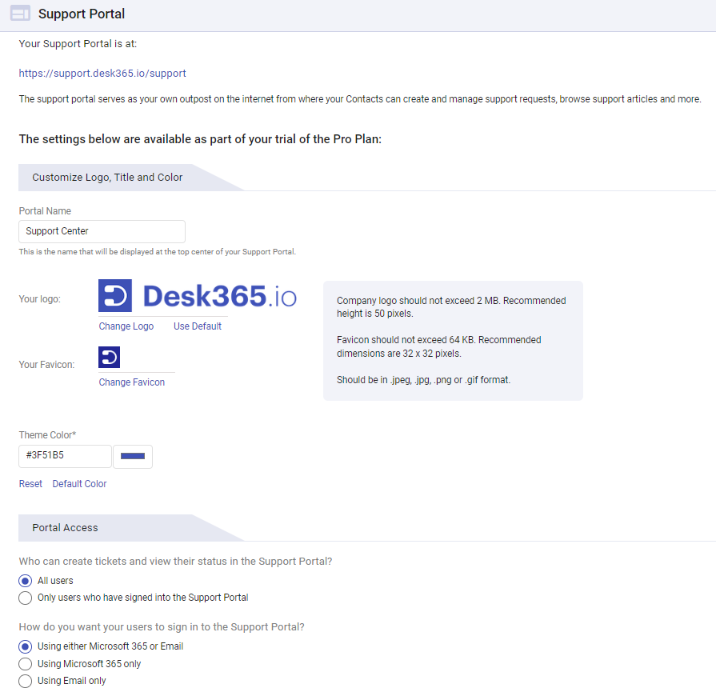 The next important channel you need to consider is Web Form/Web Widget.
You can receive customer tickets by placing ticket forms either as a web widget or by embedding it as a form on any pages in your website where you think customers might want to reach out to you for service or for feedback.
You can customize the ticket form and add whatever fields you would like to collect information from your users. There are also additional capabilities like file attachments that can be used by your customers if needed.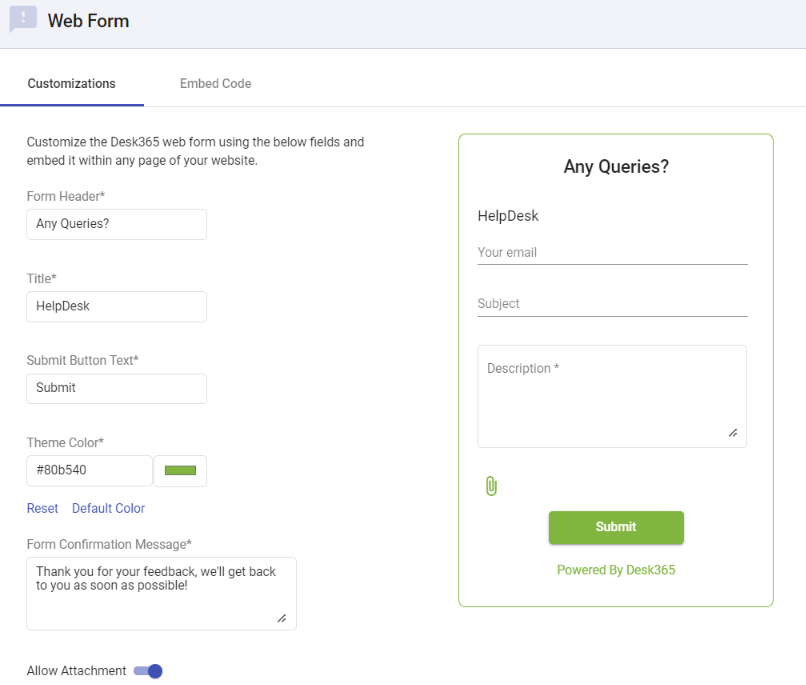 Configuring Basic Helpdesk Settings
From the Settings > Help Desk tab you can configure basic properties of your help desk. Configurations like Helpdesk Name, Date Format, Header Buttons and more.
You can also choose the kind of access you want to provide for your helpdesk. Allowed users will be able to create tickets via any of the support channels and will be able to sign up for the Support Portal and check the status of their tickets
You've two options to choose from:
Users from any domain: All users will be able to access your helpdesk. No restrictions on who can create tickets, use the Support Bot or signup for an account in the Support Portal.
Users from Allowed Domains only: Only users from Allowed Domains can access your helpdesk. Emails sent from other domains will be rejected and a notification will be sent to those users. Teams Support Bot and the Support Portal can only be accessed by users from Allowed Domains. This is especially useful when you want to block domains like your own backup services for instance or any other company which you wish to block from tickets getting created.

Once the basic settings like emails and notifications are set up, it's now the right time to add all your support agents and create separate groups where you can organize agents into groups. 

Everyone who works on your support team and interacts with customers/contacts/end-users through Desk365 is an agent. Agents can be added, modified, and deleted at any time in Desk365.
Here are the steps you need to take to add an agent in Desk365.
Go to Settings -> Admin -> Agents. Click on the 'Add Agent' button at the top.
That's it. Here you can add all your support agents and don't forget to fill in all the required fields.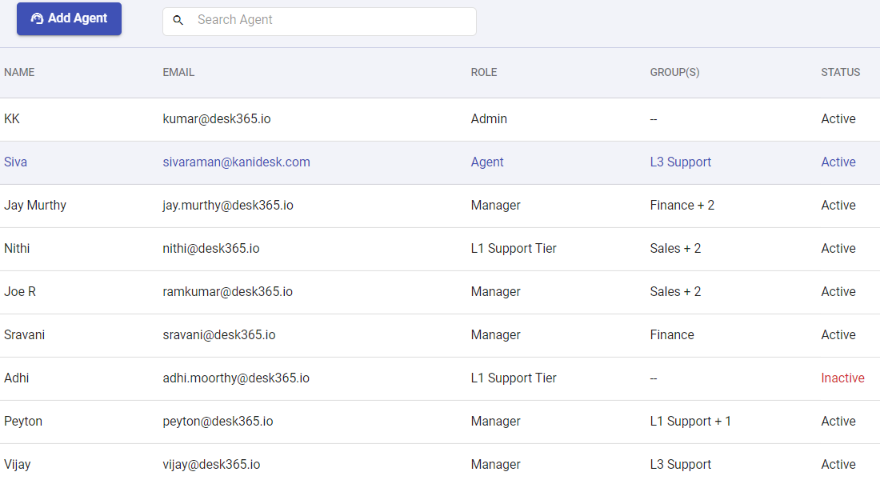 Adding Agents to the right Group
You can organize agents into groups. An agent can be a member of multiple groups. Setting up an agent into groups helps assign the tickets to the respective groups without any confusion.
Tickets can be assigned to groups. Groups can be used while filtering tickets.
If a notification is sent to a group, it gets sent as individual messages to each agent who is a member of that group.
Groups are one of the entities that can be used while creating automation rules. Specific actions can be taken based on tickets that are assigned to groups.
Notifications can also be set up to specific groups based on a set of rules.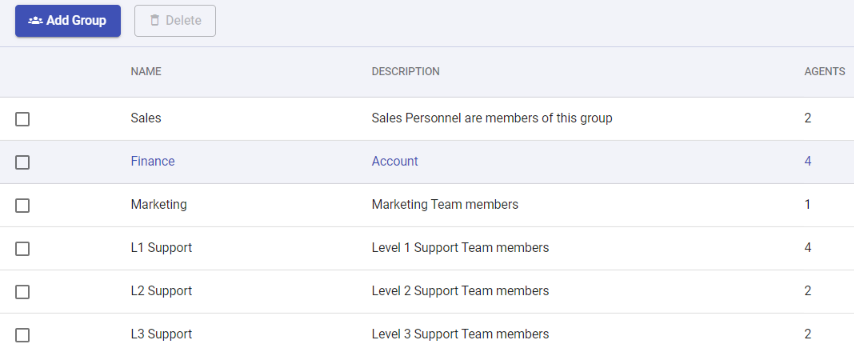 Roles are used to determine the level of access an agent has within Desk365. There are three scope levels possible: Global, Group and Agent Only. For example, you may want agents in your finance group have access only to finance related tickets. In that case, the Group level access comes in handy. You can create a custom role and grant it Group Only access. You can then assign this role to all the agents of your finance group. Now, they'll only see tickets belonging to their group.
By default, Desk365 comes with three roles: Admin, Manager, and Agent.
However, you can create your own custom roles based on the specific requirements of your team.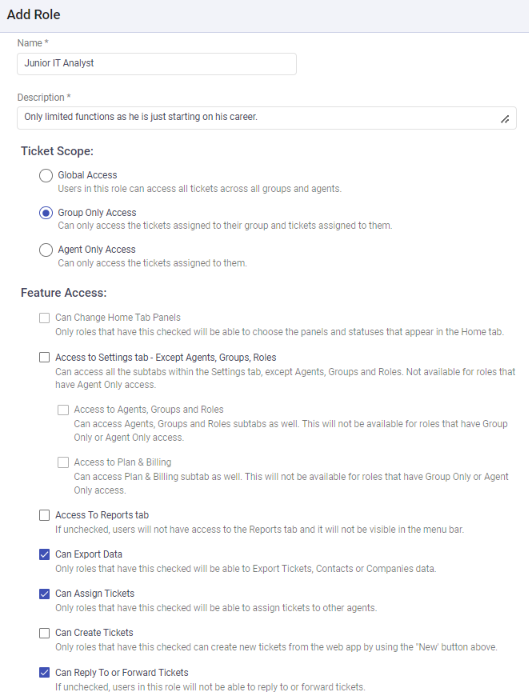 Adding Contacts and Companies
In Desk365 terminology, your end-users/customers/employees/students who create support tickets are called Contacts. A Contact is automatically created when they create a ticket for the first time.
Adding Companies in Desk365 is easy to do. Click on the 'Accounts' tab in Desk365. Here you will find Contacts and Companies tabs where you can add them. While adding companies, pay special attention to the Email Domains field. This field is used to map Contacts to their appropriate Company. You can also manually make this association later by visiting the Contacts tab.
 If you are a B2B service or product, creating companies and associating all your end-users as contacts within those companies will ensure a smooth customer support process. 
If you are using Desk365 as an internal helpdesk within your company, you can just create a single Company with the email domains belonging to your company.
If you want to add contacts or companies in bulk, that can also be done. 
Just send us an email and we'll be happy to import your current contacts or companies for you.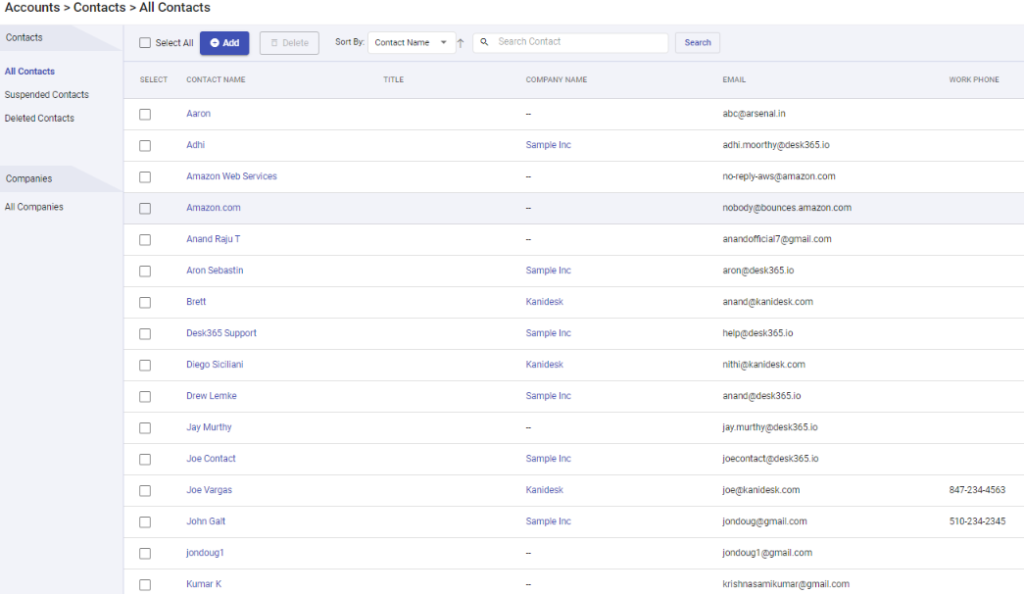 Configure Ticket Forms and Fields

Understanding Ticket Statuses
Ticket status is one of the important ticket fields in Desk365 as it helps define your support team operations for your business. It is a part of your default ticket field and helps you manage the journey of a ticket from the time of creation to the point where it gets resolved by one of your support agents.
By default, every ticket in Desk365 can have one of the four statuses: Open, Pending, Resolved, or Closed.
With Desk365, you can also create your own custom ticket statuses based on your requirements.
Here is a detailed article on how to add additional ticket statuses in your Desk365 Helpdesk in addition to the traditional statuses.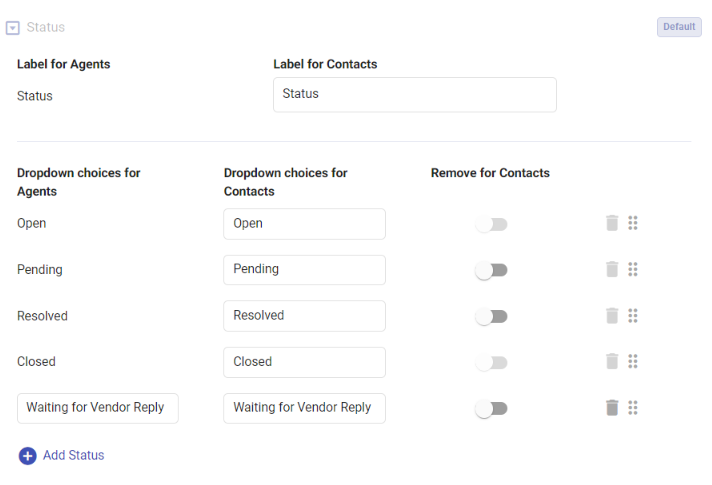 Learn & master the Productivity Hacks
Desk365 comes with powerful functions that you can use to improve your productivity and save time on repetitive tasks.
Let's check them below.
Canned responses are predefined templates that can be quickly placed into replies while responding to tickets.
You can create any number of 'Canned Responses' from Settings -> Productivity -> Canned Responses.
You can also include placeholders that are populated dynamically based on ticket and account properties like Agent Name/Email, Ticket URL, Contact Name, Company Name etc.
It's useful to have pre-defined templates for repetitive customer questions that come often.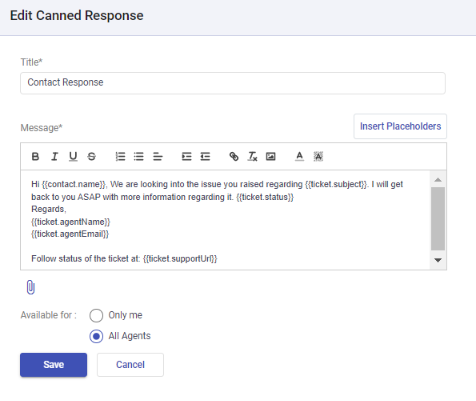 In addition to canned responses, you can also set-up automation rules that can occur during Ticket Creation as well as during Ticket Updates. You can set up as many rules as per your wish based on your requirements.
It's very easy to create workflows based on different ticket/customer properties, keywords, events, priority, SLAs, and more.
These automations are highly useful for automating almost anything within your helpdesk that can occur based on a set of triggers. Visit the Settings -> Productivity -> Automations tab to learn more.
Here's a blog post on how to get notified every time a ticket is created in your helpdesk by creating an Automation Rule. This will give you an example of how automation rules can be configured.

At Desk365, we have powerful SLA options that can be easily set up and used according to your needs. We have different SLA options that are available to use.
Each helpdesk has a default SLA. This will be the default whenever a ticket is created in your helpdesk.

You also have the option of selecting a different default SLA for specific Companies. You can do that by selecting that company specific default in your Companies tab by editing the Company details.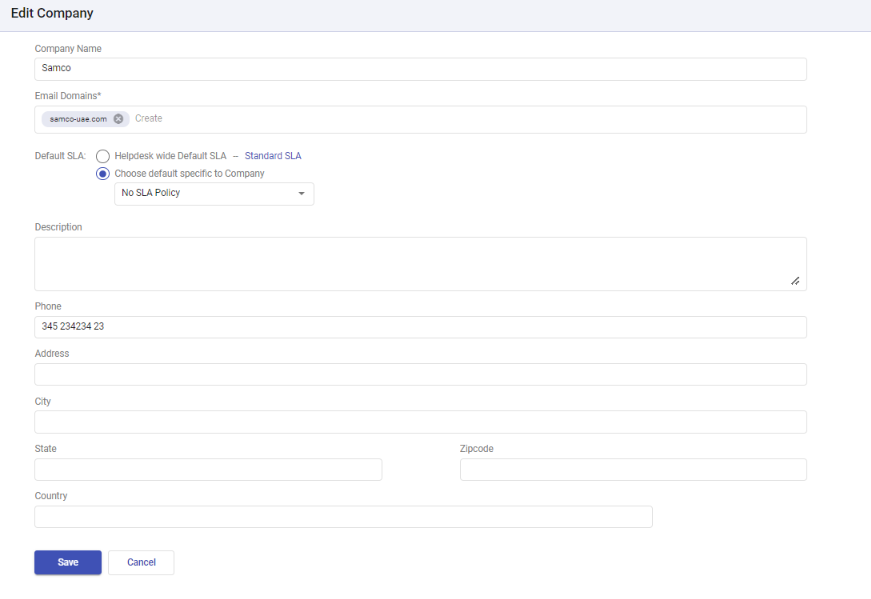 If you prefer not using SLAs for some tickets, choose the 'No SLA Policy' as the SLA. Once it is chosen, tickets associated with it will show no due dates and other SLA related metrics. If most of the tickets in your helpdesk do not need SLA policies associated with them, choose the 'No SLA Policy' as the helpdesk default.
Here is a blog article on how to configure SLAs and apply them to tickets.
Note: It's recommended to set up your business hours before configuring SLAs as due times for SLAs are calculated from your business hours.
Activate Self-Service Functions
Make it easy for customers to find answers on their own by strengthening customer self-service functions with the help of a knowledge base.
Create and share solutions articles with ease using the Knowledge Base. Discuss the solutions articles with the other members of your support team, review them, and publish them together.
Create multiple categories for different solution articles which will help customers find answers to some of their questions they have in mind in a structured and easy manner.
You can also control the visibility of solution articles on an individual level or company level.
Do you have customers from similar industries, or do you want to have an advanced knowledge base for your high-paying customers?
You can easily create one using the multi-brand knowledge base feature in Desk365.
Having a solid knowledge base will reduce the number of repetitive questions and will make your support team lives easier.
Provide personalized and wonderful support experiences to your customers starting today.

Stay on top of your data with Powerful Reports
Desk365 has a robust report module which helps you visualize your support team performance in a nutshell. Sometimes, you do all the heavy lifting focusing on resolving customer tickets but eventually what matters is measuring the results to uncover further areas of improvement for your support team.
Powerful visuals in the form of graphs help you uncover a lot of interesting data points in an easy and digestive manner.
At Desk365, we offer three types of reports:
Ticket Trends Reports give you an overview of the overall ticket load of your helpdesk. This report helps you to spot patterns, notice overall ticket trends and see if there is room for improvement for any metric.
Customize surveys and have Desk365 automatically send them to your contacts whenever a ticket is resolved or closed. Once the responses start coming in, check out the Survey Reports in the Reports tab to analyze the feedback from your customers.
Desk365 provides you with three different types of survey options:
1. Customer Satisfaction or CSAT surveys
Customer Satisfaction or CSAT surveys are typically used to elicit a response from end-users based on their most recent interaction with your support team.
2. Star Rating surveys
Star Rating surveys are a great way to increase the response rate from your end-users.
3. Net Promoter Score or NPS surveys
Net Promoter Score or NPS surveys are typically used to gauge how likely your customers are to recommend your product or service to others.
The Productivity Reports in Desk365 give a bird's eye view of your support team performance during a selected period of time you wish to analyze.
You can get a summary of all the activities involving the agents like the number of tickets assigned, resolved, and closed by them.
We recommend you check these reports and set them up for your business as early as possible.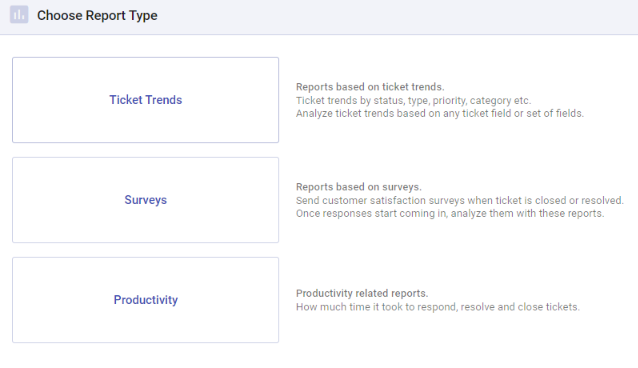 At Desk365, we understand our customers rely on us to run their day to day business processes and to keep their data secure. We take our responsibilities to our customers seriously – the security and reliability of the software application, data and systems are of paramount importance and our top priority.
Single Sign-on with Azure AD
You can enforce strong authentication rules for all your users. We recommend utilizing Azure AD single sign on (if your organization uses Microsoft 365) to access Desk365.
Simplify user administration and, at the same time, provide secure access using the Single Sign-on option through Azure AD. Your users can easily login and access the Desk365 app, customer support portal, in seconds through this option. 
Some mail servers may have 'anti-spoofing' configurations that may cause emails sent from Desk365 on your behalf, i.e, emails sent from Desk365 but sent on behalf of your custom support email like 'support@yourdomain.com', to be sent to the junk folder. To avoid this, you can set up DKIM configuration which creates a digital signature for your domain name. This way, whenever a message is sent from Desk365 on your behalf, the mail server knows it is sent on your behalf with authorization and is never sent to the junk folder.
Setting up DKIM records is an easy and one-time process. Let us know your desire for setting up DKIM records and we'll generate the CNAME records you'll need to add to the records at your domain name provider. Once you add these records, emails sent by Desk365 on behalf of your custom support email, will be treated just like emails sent directly from your custom support email.
You can reach out to us anytime to set up DKIM configuration, we'll be happy to do it for you.
This guide gives you an overview of the important first steps to take while configuring your Desk365 helpdesk. For more complex features or for any questions, reach out to Desk365 Support. You can get in touch with the Desk365 support team by clicking the support icon that appears in the bottom left of your agent portal.