At Desk365, we are always looking for ways to improve the customer experience and make the job of your support agents easier.
This week's enhancements include the rollout of closure rules, ability to add attachments when creating a ticket in the Desk365 Teams Support Bot, the capability to utilize custom fields within placeholders, minor bug fixes, and more.
Let's take a look into this week's product updates in detail below:
Closure rules are an essential part of any helpdesk solution. They ensure that all necessary tasks have been completed before closing or resolving a support ticket. With Desk365's new closure rules feature, you can set conditions that must be met before a ticket can be closed or resolved. These conditions include adding time entries, completing all tasks, adding at least one reply, and adding at least one note.
Aside from setting up conditions using the default ticket fields, you also have the choice to establish conditions using custom fields that you have created to match the distinct needs of your helpdesk.
By adding closure rules, you can ensure that your support agents are following the correct procedures and that all necessary information has been gathered before a ticket is closed. This not only improves the quality of customer support but also reduces the likelihood of tickets being reopened due to incomplete information.
Learn more about closure rules with the help of this blog post.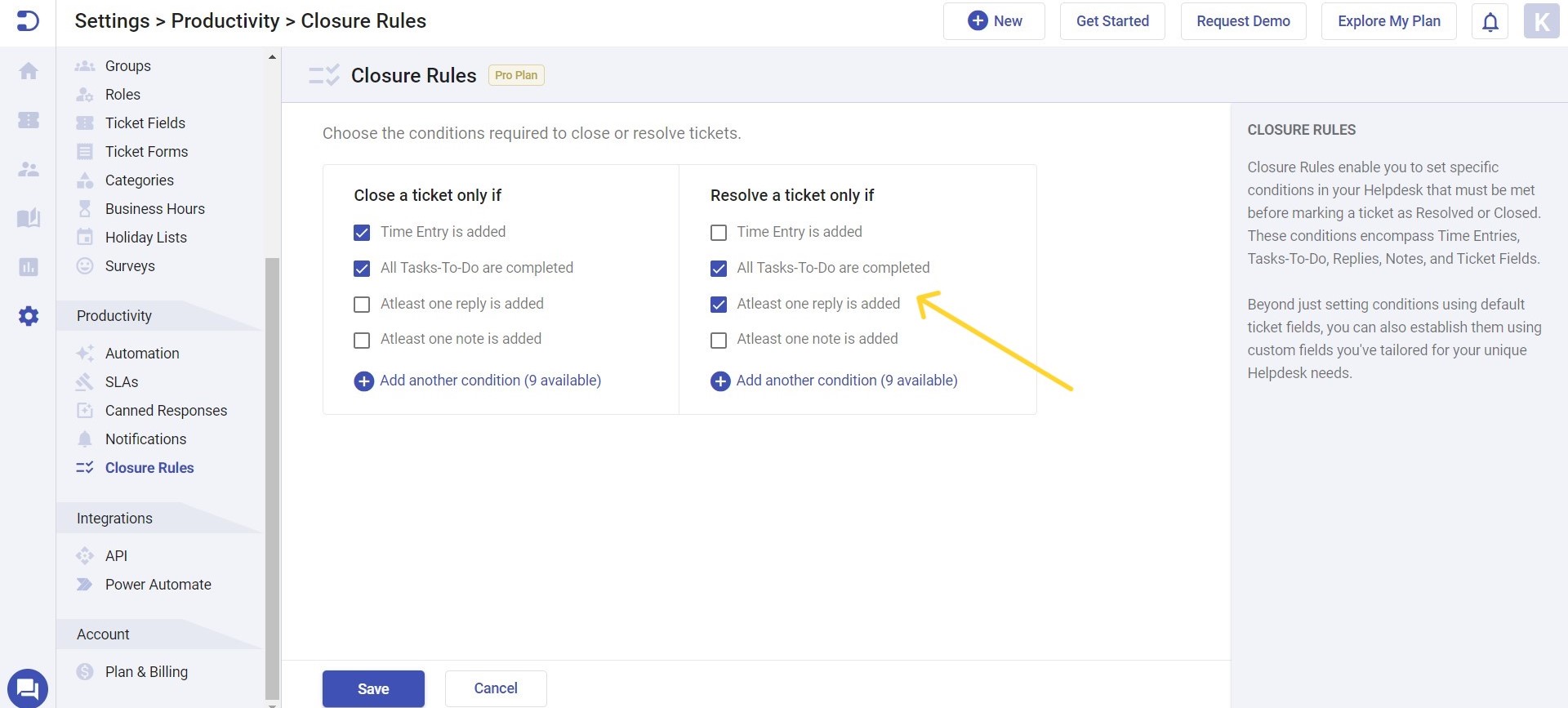 Ability to add an attachment in Desk365 Teams Support Bot during ticket creation
We're thrilled to introduce our latest feature update, enabling customers to include attachments when creating a ticket. In the past, customers had to create a ticket first and then attach files separately. This enhancement streamlines the process, making it easier and more efficient for customers to submit all necessary information and supporting documents in a single step.
Now, customers can add attachments in two ways: by clicking 'Add Attachments' during ticket creation or by simply dragging and dropping files from their desktop directly onto the Desk365 Teams Support Bot.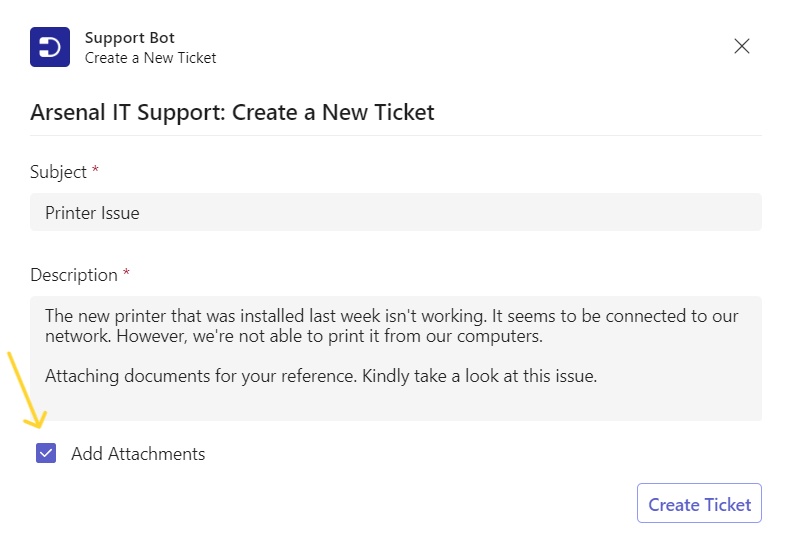 This feature also enables customers to include multiple attachments simultaneously, enhancing convenience.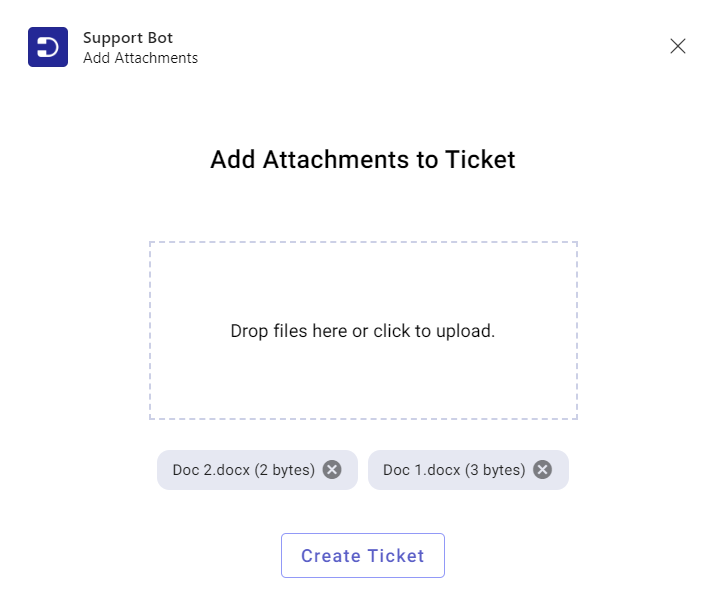 By providing all essential information in advance, this feature saves time for both customers and support agents, leading to an improved overall experience.
Ability to use Custom Fields in placeholders
Placeholders are a useful feature that allows you to tailor your responses and save even more time.
With Desk365's placeholder feature, you can use placeholders that are dynamically populated based on ticket and account properties, such as agent name/email, ticket URL, contact name, company name, and more. Additionally, we've introduced a broader range of predefined ticket fields such as type, category, subcategory, and group within placeholders.
Now, you can also include custom ticket fields in placeholders in notifications, canned responses, and automation rules.
By using placeholders, you can save time for your support agents and ensure that your responses are personalized and pertinent to each specific ticket and customer.
Read more about placeholders in detail as explained in this blog post.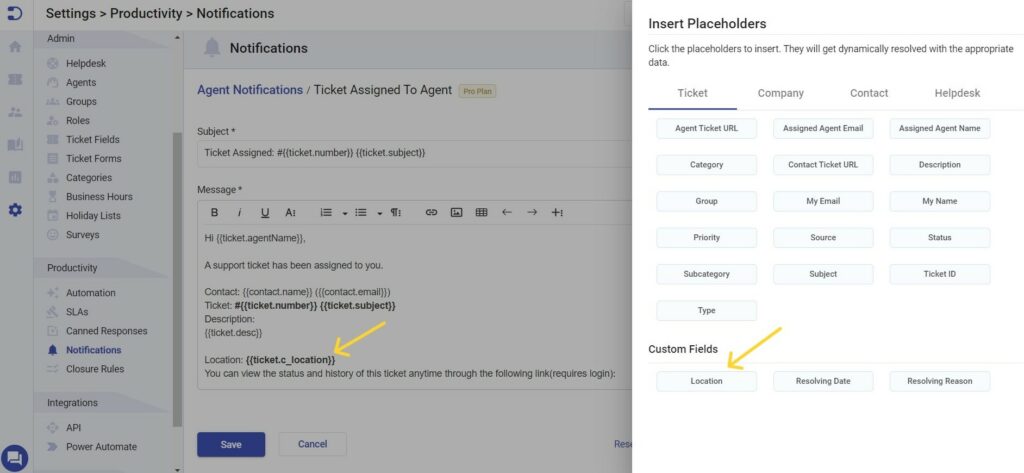 Automation Enhancement: Date Is Today field
With the latest feature enhancement, you now have the ability to employ automation rules based on the current date. These rules can be applied to three different scenarios: ticket creation, ticket updates, and time-based triggers.
This feature empowers users to create customized ticket fields that include a date component and configure rules that trigger specific actions when a ticket's date of creation matches the current day.
For instance, users can choose to notify agents or assign the ticket to a specific group when the 'Joining Date' condition matches the current date. This automation rule enhancement offers greater flexibility and customization options for efficiently managing tickets.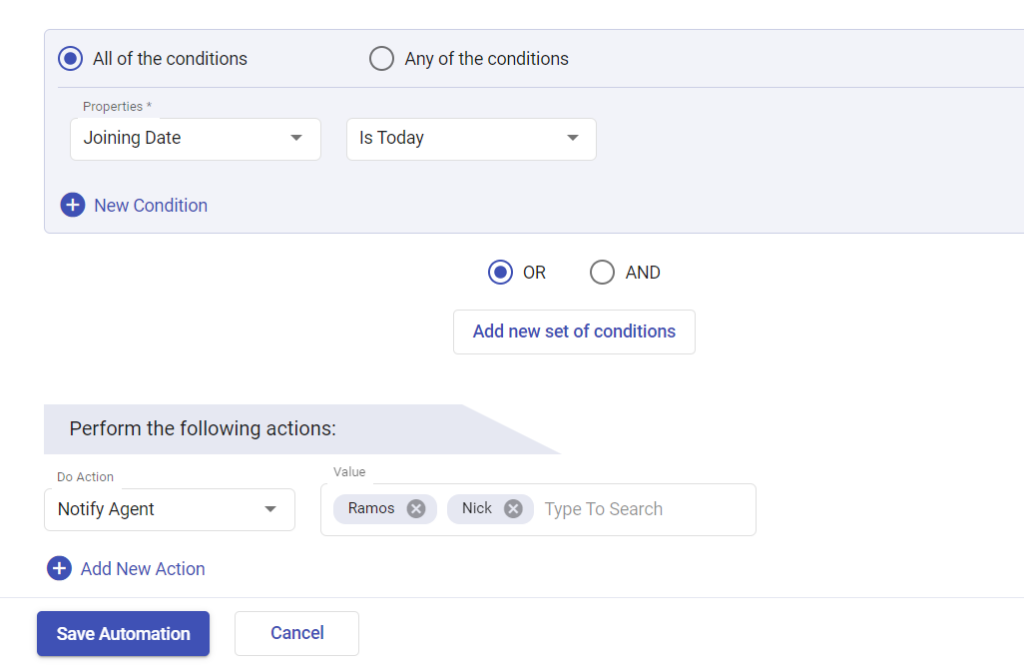 In conclusion, Desk365's latest product update has introduced several new features that aim to simplify and expedite the ticket creation and resolution process.
We hope you find these new features helpful and look forward to seeing how you integrate them into your helpdesk operations!