Microsoft Teams is a popular communication platform that has become an essential tool for many businesses. With over 300 million daily active users, Teams has emerged as one of the most widely used communication and collaboration tools across the globe.
The platform offers a wide range of features, but did you know that you can enhance your Teams experience even further by integrating third-party apps?
With over 1,985 apps available in the Microsoft Teams app directory, there's something for everyone.
In this article, we will explore the 35 best Microsoft Teams apps and integrations in 2023 that can enhance productivity, streamline workflows, and empower teams to achieve more.
From project management tools to survey platforms, these apps and integrations can help you streamline your workflows and get more done.
So let's dive in and explore these powerful apps and integrations!
Microsoft Teams integrates with a variety of third-party apps and services to provide a comprehensive collaboration experience. Here are some of the key integrations:
Microsoft Teams integrates with all the major Office 365 apps, including Word, Excel, PowerPoint, and OneNote. This allows users to collaborate on documents in real-time, without having to switch between apps.
In addition to Office 365 apps, Microsoft Teams also integrates with other Microsoft apps such as Power BI, Dynamics 365, and SharePoint. This allows users to access important data and insights directly within Teams.
Microsoft Teams also integrates with a wide range of third-party apps, including Trello, ClickUp, DocuSign, and more. These integrations allow users to access all their important tools and services directly within Teams, without having to switch between apps.
Finally, Microsoft Teams also supports custom app integrations. This means that businesses can develop their own custom apps and integrate them directly into Teams, providing a tailored collaboration experience that meets their specific needs.
Top 35 Microsoft Teams Apps for Individuals and Businesses to Try in 2023
Microsoft Teams is a powerful collaboration tool that allows teams to work together seamlessly. Here are some of the best Microsoft Teams apps and integrations to consider in 2023.
1. Desk365: Modern Helpdesk for the Microsoft 365 Workplace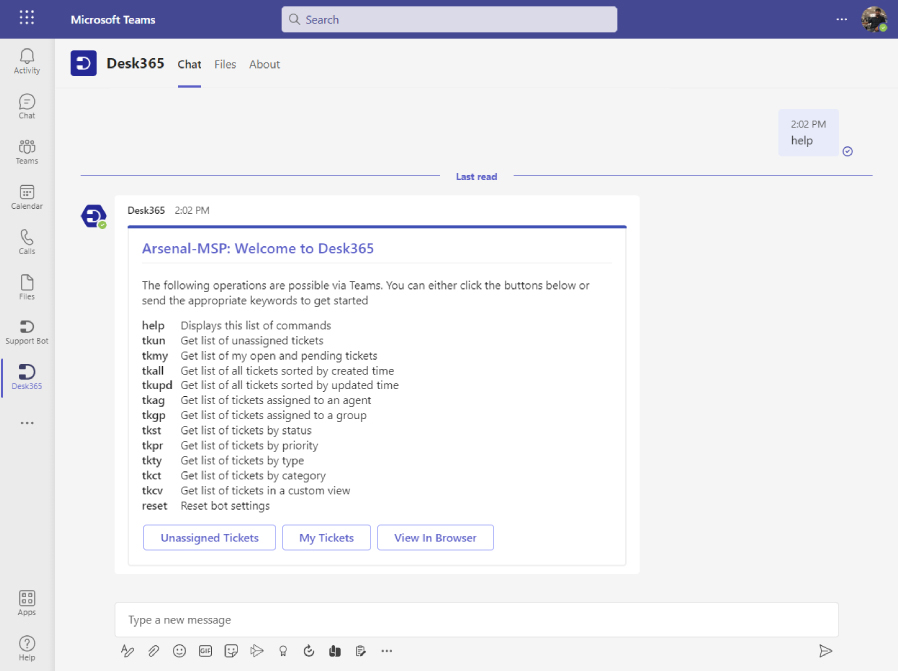 Desk365 is the modern cloud-based helpdesk solution designed for the Microsoft 365 workplace. It enables you to provide exceptional customer service through various channels like Microsoft Teams, Email, Web Forms/Widgets, and more.
Integrating Desk365 with Microsoft Teams streamlines the support process, enabling both end-users and agents to utilize Teams as a support channel. This integration enhances the overall help desk experience within the Microsoft Teams environment, ensuring efficiency and ease of use for all users.
Desk365 is versatile and works perfectly as an external customer-facing helpdesk, an internal helpdesk to serve employees, and as an ITSM solution.