The well-known business axiom "Customer is King" effectively summarizes the importance of prioritizing customer satisfaction.
Customers usually have high expectations from the support team. And it's a no-brainer responding to their questions immediately and resolving their issues can have a positive impact on your business.
But it's not always as easy as it sounds. Your organization requires meticulous planning in creating an effective support team structure to delight your customers on a regular basis.
Businesses that consistently have fast, accurate, and well-trained support teams will have higher customer satisfaction and win the game in the longer run than those who are continuously slow to respond, provide false information, and do not have a streamlined help desk support process implemented for their business.
But how do you ensure that your IT support team surpasses customer expectations every time and continues to provide stellar support consistently?
That's where setting up a multi-tiered IT support model that includes different support tiers catering to different types of customers comes into picture.
Incorporating multi-tiered support for your business can help streamline your support operations to the next level that gets customers in touch with the right IT support tier each time based on the issue type and complexity.
Without the need for guesswork on the number of support issues that you might get on a day-to-day basis and the number of technicians that are needed to handle them, your team can get better prepared on the incoming issues which helps boost employee productivity and guarantee customer satisfaction by implementing different levels of IT support.
In this blog post, we will explore the various tiers of IT support, including L0, L1, L2, L3, and L4, and how they differ in terms of scope, responsibilities, and expertise.
Technical support, sometimes also known as information technology (IT) support, is a service provided by companies to help and advise users for support in solving a technical problem that occurred with their products or services.
Technical support is essential for businesses and individuals alike, as it ensures that technology is functioning as intended and helps users get the most out of their investments. It can be provided in several different ways, such as by phone, email, video, live chat, chatbots, online tutorials, and much more.
Technical support often contributes to a company's overall customer service growth and it's a critical part of any business.
Many technical support teams are organized into tiers. Tiers represent different support expertise levels.
Having different levels of tiers allows them to service varying customer issues more quickly and effectively.
Generally, companies start with a single-tier technical support system. Your technical support team initially might be very small and might have just a single point of contact to handle all customer-related queries. However, as a company grows and becomes bigger in size, you must have tiered help desk infrastructure as a fundamental practice.
If you have ever tried resolving a technical issue on your own for the different products or services that you use, you realize the importance and value of technical support. The goal is to resolve issues quickly and effectively and make it easy for the customers to reach you every single time.
You can also choose to develop an in-house team or outsource your technical support, depending on your requirements.
Ultimately, technical support is about empowering users with the knowledge and tools they need to overcome technical challenges and keep their systems running smoothly.
What are IT Support Tiers or IT Support Levels?
IT Support Tiers or IT Support Levels refers to organizing your support team into different levels based on their levels of expertise to effectively handle incoming support issues. By implementing the right combination of support technicians at each level, filtering your customer support through different tiers proves useful for numerous reasons as it:
Strategically addresses customer requirements
Creates fantastic customer service experience
Empowers customers to be self-sufficient whenever possible
Quickly resolves small, repeated, or easy-to-manage customer issues
Establishes a timeline and protocol for complex issues
Improves employee training and confidence levels while addressing issues
Allows opportunities for feedback and suggestions for continued product development
Also, breaking customer service into different levels of support tiers allows you to bring into play the best member of the support team. A multi-tiered help desk infrastructure is critical because the issues vary so much in terms of complexity. The support varies in terms of complexity, hence the division into different help desk levels or tiers.
Let's take a look at some examples of the best practices for implementing the five help desk levels in detail below:
Tier 0 or Level 0 Support
Tier 0 or Level 0 IT support is the first tier of support that customers will interact with is self-service or automated machine interactive level. Tier 0 is the most basic level of technical support provided to end-users.
This tier typically consists of self-service options, such as knowledge base articles, frequently asked questions (FAQs), and user manuals, that allow users to troubleshoot and resolve common issues on their own without requiring assistance from support agents.
On this level, there is little or zero scope for customer-to-employee interaction while receiving support.
Providing some kind of user-retrievable information
Incorporating Self-Help Service Desk
Users can retrieve the required support information from mobile and web pages or apps that include blog posts, FAQs, detailed information about products, search, and manual functions.
Users use the mobile app to access the service catalog where they can request and receive service without involving the IT staff.
Email, web forms, and social contact methods such as Twitter, LinkedIn, etc., are used to reach higher IT support levels or company personnel.
Users are allowed to crowdsource solutions usually without input from company personnel through customer forums.
IT Support Staffing Requirement
Tier 0 support requires specific technical and marketing resources to be created, maintained, and updated as and when required.
A development team is needed to create a web portal or mobile app.
Moderator roles can be assigned to a few staff, to monitor customer forums or social profiles.
New requests received from Tier-0 can be assigned to the Tier-1 support desk for further processing if self-service is insufficient.
Tier 1 or Level 1 Support
Tier 1 or Level 1 IT support represents a very basic level of support service offered by a company to its customers. This level of support typically handles simple issues like software installations, password resets, and basic troubleshooting. 
This support level is usually provided by IT personnel having least experience, lower understanding of technical issues, and limited access to company data.
Logs, prioritizes, tracks, routes, categorizes incidents reported by clients.
Records user requests and data
Monitoring server notifications
Attending user's phone calls and resolve issues encountered with hardware/software
Replying to client emails
Fix logging issues faced by the user
Conduct basic MS Office and Google Suite troubleshooting
Reinstalling basic applications
Create tickets for Level 2 support
Solve frequently occurring problems such as username and passwords issues, aid users in the use of software and hardware, and set-up issues
Troubleshooting Printer related issues
Tier 1 support receives requests from customers via channels like phone calls, email, web forms, chat, and more. This is often the tier that first interacts with customer questions, so it is important that those in charge of providing assistance are ready to fix these issues and track support tickets until the issue is completely resolved.
The issues it deals with are very basic, such as solving usage issues, providing details about a product, and fulfilling service desk requests which require IT involvement.
In case no solution is available and requires more technical help, Tier 1 personnel will typically delegate the issue to Tier 2 support and follow the required escalation procedure.
IT Support Staffing Requirement
Tier 1 staff require only a basic level of technical knowledge. They are given sufficient training on the job to resolve common issues faced by the customer by following a documented standard operating procedure (SOP) or scripts.
Tier 2 or Level 2 Support
Tier 2, also known as Level 2 support, provides more advanced technical assistance to end-users who require in-depth troubleshooting of their hardware or software products.
This level of support deals with more complex issues or challenges that could not be solved by the Tier 1 personnel. They usually comprise experienced agents, who have an extensive knowledge of the company's software and hardware products than the Tier 1 support agents, thus making sure that the issues that level 1 IT Support operators escalated are dealt with accordingly and in the right manner.
Tier 2 support agents provide in-depth troubleshooting, technical analysis, and backend analysis. Tier 2 personnel also have more access to all the important company information.
Extensive technical support
Represents a part of ITIL Technical Management function
Follows incident management activities
Provide training whenever it is needed for employees and staff
Handle complex issues like billing and refunds
They work in a backend capacity and have no direct communication with the customers.
Tier 2 personnel have more experience, and they are skilled technicians.
They assess incidents and provide solutions to the issues that can't be handled by a Tier 1 support team.
If Tier 2 support tier fails to provide any solution, then the issue is escalated to Tier 3 support tier.
IT Support Staffing Requirement
This level requires support personnel to have deep knowledge and a thorough understanding of the product or service. They may or may not necessarily be the programmers or engineers who designed and developed the service/product, but they should have decent knowledge and experience on the specified product/service to handle all types of customer issues.
Tier 3 or Level 3 Support
Tier 3 support level represents the highest level in terms of IT Support and this level consists of SMEs (Subject Matter Experts) who are well accomplished with the product or service for which the company is offering support.
This level of support handles the most complex and challenging issues that require extensive technical knowledge and expertise.
Tier 3 usually helps a small percentage of customers who are either high-value customers or customers experiencing strange technical issues that don't happen generally. They can provide solutions for a wide variety of technical problems.
Represents the expert level of the Technical Management Function
Provide a top level of support for products or services
Keep a watch for continuous product/service improvement opportunities
Communicate client perspective to product and development teams for feature improvements
Tier 3 support groups have access to the highest level of company and product information for solving an issue or creating a new feature.
They attempt to create a replica of the problem to determine the root cause, by looking into code and designs in a lab setting. On identifying the root cause, the company decides if the new fix is required or not. The new fixes are then documented and communicated to Tier-1 and Tier-2 agents as a future reference.
If the fix involves a major improvement, the problem is then escalated to Tier 4 support.
IT Support Staffing Requirement
Tier 3 specialists typically have the highest level of skills and often they are known as product specialists. This group may include the actual creators, chief architects, or engineers who designed and developed the product or service.
Tier 4 or Level 4 Support
Tier 4 comes into the picture when the services get outsourced by a parent organization. This support tier is all about outside technical support provided but not supported by the company.
Outside support for problems that are not supported by the organization.
This level provides outsourced support for components or products that are not directly serviced by the company. The issues forwarded to Tier 4 are monitored by the companies until it's completely resolved. Some of the examples include printer support, machine maintenance, vendor software support, and more.
IT Support Staffing Requirement
Preferred suppliers and business partners providing support and services for items provided by your company.
How Desk365 can be used to manage different levels of your IT support team
As an IT helpdesk solution, customers frequently ask about the various approaches to IT Support and how they can use Desk365 to organize their support team into different tiers.
Here's how Desk365 special features enable your business to provide stellar support to your customers.
Let's see them in detail below:
You can create multiple groups and add the right support agent to the group he must belong to according to his expertise. The best option is to have three groups: L1, L2, and L3 with the right support agents in each group.
Roles are used to shape how your support team members can access Desk365. For example, you may want L1 members to have access only for basic tickets, view the remaining tickets, add notes to them, escalate them to L2 and L3 whereas higher level support tiers can have access to complex tickets which are critical for your business.
Set up powerful workflow rules in such a way that high priority tickets, complex issues, and issues flagged by your high value customers directly go to the higher support level tiers for immediate action and resolution.
4. Knowledge Base in Support Portal
Create an extensive knowledge base covering solutions to the frequently asked questions from your customers. The aim is to automate as many support functions as possible in Tier 0 itself where end users can quickly and easily find solutions on their own without the need to reach out to your support agents.
Set up SLAs to provide the best customer support to your customers and resolve their queries quickly. Having escalations helps in escalating issues to the higher support tiers if the lower support tier could not identify the issue and solve it within the required amount of time.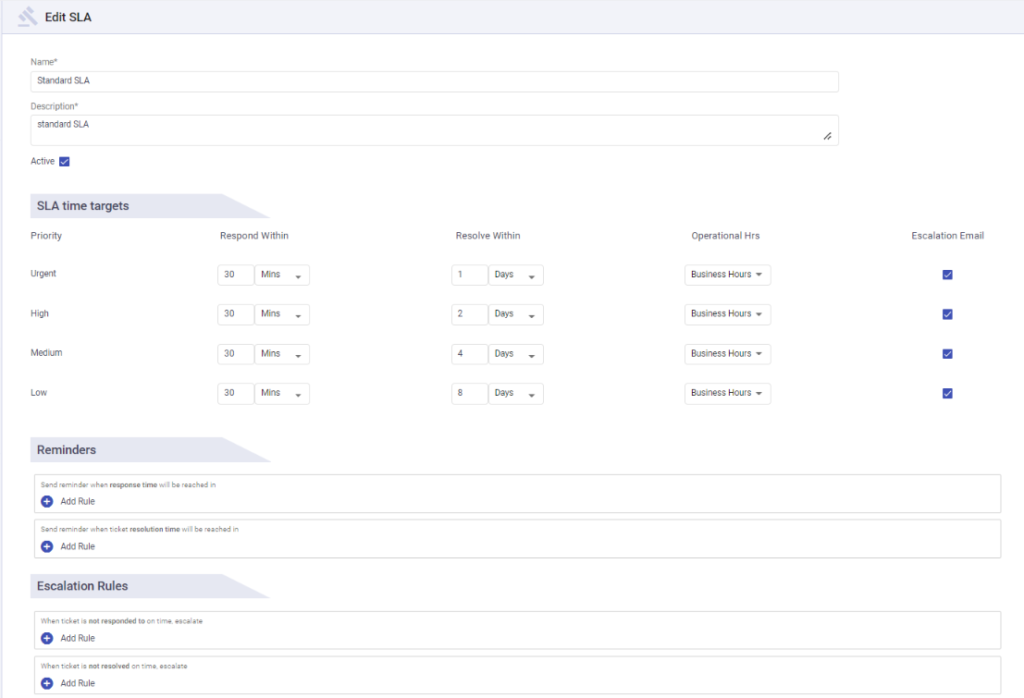 If you're providing Level 1 and Level 2 support using Desk365 and using a different third-party solution like Service Now (for an example) for providing Level 3 support, you can use Desk365's APIs to integrate with Service Now and pull the level 1 and level 2 tickets directly into Service Now.
Trends for Tiered Technical Support
As technology continues to evolve, so do the trends in tiered technical support. Some of the popular trends we are seeing include:
1. Omnichannel Support: Today's customers expect to receive support through multiple channels, including phone, email, live chat, social media, and more. A tiered support system that integrates these channels can provide a seamless and efficient experience for customers.
2. Automation: Chatbots and other forms of automation can help businesses handle routine enquiries quickly and efficiently, freeing up human agents to focus on more complex issues.
3. Self-Service: Many customers prefer to solve problems on their own, and a tiered support system that includes self-service options such as knowledge bases and FAQs can help them do so.
4. Data-Driven Support: By collecting and analyzing data about customer interactions, businesses can identify patterns and trends and optimize their support processes accordingly.
Overall, the trends in tiered technical support are geared towards providing faster, more efficient, and more personalized solutions to customers.
Is tiered technical support necessary for you?
When it comes to technical support, one of the key decisions that organizations need to make is whether to implement a tiered support model or not.
IT Service Management (ITSM) highly recommends every organization to have tiered IT support. However, implementing a tiered support model can also be challenging, requiring significant investments in training, technology, and personnel and it is not compulsory to implement all these different support levels for your business.
You can modify or combine support levels based on your own requirements and support structure. There are many companies which have tailored their support levels and combined support tiers according to their resource capacity, financial capability, and customer needs.
In some organizations, Tier 1 and Tier 2 support groups are handled by the same support agents while other organizations may prefer to combine Tier 2 and Tier 3 support functions in the same group.
The goal is to automate as many support functions as possible in Tier 0 itself where users can quickly and easily find solutions on their own without depending on the IT personnel's help. This saves highly skilled resources for creating new solutions, fixing difficult problems, and reduces the overall support operational cost for your business.
Ultimately, the decision of whether to implement a tiered support model depends on the unique needs and circumstances of your organization. While tiered support can offer significant benefits, it's important to carefully evaluate the costs and resources required to implement it and determine if it aligns with your organization's goals and priorities.