According to the Intercom Customer Service Trends Report 2023, 89% of support leaders consider personalized support as a crucial factor that sets them apart from their competitors.
However, crafting personalized emails for each customer can be a daunting task. This is where Canned Responses prove to be useful for your support team.
Canned Responses are specifically designed to enhance communication efficiency and save time, making them incredibly useful for anyone who needs to interact with a large number of people quickly and efficiently.
Whether you are a customer service representative, finance manager, or a billing assistant, these templates can save you significant time and effort.
In this article, we will explore the benefits of using canned response templates, how to create effective templates, and best practices for using them in customer support emails.
Canned Responses, also known as email templates, are pre-written messages that customer support representatives can use to quickly respond to frequently asked questions, support requests, and other types of enquiries.
This is especially useful for businesses that receive a high volume of customer enquiries or have a small customer support team.
These support ticket response templates can also be personalized and customized to fit the specific needs of each customer, saving time and increasing efficiency in responding to queries.
Why Canned Responses are useful?
Canned email responses are commonly used in customer service, technical support, and email communication for a variety of reasons, as explained below.
Saves time and boosts productivity: Canned responses can save you and your team a significant amount of time by eliminating the need to type out the same response repeatedly. By addressing frequently asked questions efficiently, support agents can allocate their time and energy towards resolving more complex issues that may require more attention and resources.
Improved resolution time: Canned responses improve support efficiency by giving agents the ability to answer customer enquiries quickly and accurately. Additionally, this helps to improve resolution time and first response time while maintaining high quality. This quick response time can result in increased customer satisfaction and loyalty.
Ensures consistency: Canned responses ensure that the messaging used in customer support emails is consistent, which helps establish trust and builds a positive reputation for your business. Additionally, canned responses can help to maintain a professional tone and style in communication, which can be important for businesses and organizations. 
Personalization: Although canned responses are pre-written, they can still be personalized to fit the specific needs of each customer. While the main content of the message is pre-written, small details such as the recipient's name or specific details of the issue can be added to the message to make it more personal and relevant.
Reduces errors: By having a pre-approved message that has been reviewed for accuracy and tone, there is less chance of an error or inconsistency in the response. This reduces the chances of miscommunication or providing incorrect information, which can lead to confusion or frustration for customers or colleagues.
Achieve higher customer satisfaction: Using canned responses can lead to higher customer satisfaction scores (CSAT). By quickly and accurately answering customers' questions or resolving their issues, canned responses can help to provide a positive customer experience. This positive experience can lead to higher CSAT scores, which can in turn lead to increased customer loyalty and positive word-of-mouth marketing.
How to Create Good Canned Responses?
Creating canned responses is typically a straightforward process that involves writing out the message, reviewing it for accuracy and tone, and then saving it as a template. Once a canned response is created, it can be stored in the help desk software and accessed by team members as needed.
Creating good canned responses can save time and improve communication efficiency, but it's important to make sure they are helpful and not robotic or impersonal.
Here are some tips for creating good canned responses:
Identify common customer issues: Start by reviewing past customer enquiries to identify the most common questions or issues. These can include frequently asked questions about your product or service, common technical issues, or requests for more information. Once you have identified these, you can create a library of canned responses that can be used to respond to these enquiries quickly and efficiently.
Keep it concise and clear: Canned responses should be easy to read and understand. Avoid using technical jargon or complex explanations that might confuse the customer. Instead, use simple, clear language that gets straight to the point. People don't have time to read long responses, especially if they are receiving a lot of messages.
Use formatting and design: Don't underestimate the power of formatting and design when it comes to creating support ticket response templates. Use headings, bullet points, and other formatting techniques to make your messages more visually appealing and easier to read for your end-users.
Provide clear next steps: Your canned responses should include clear instructions or next steps for the customer. This can help to resolve the issue quickly and effectively. For example, if a customer is experiencing technical difficulties, provide step-by-step instructions for troubleshooting the issue.
Review and update regularly: Finally, it's important to regularly review and update your canned responses to ensure that they are still relevant and effective. By regularly reviewing and updating your canned responses, you can ensure that they continue to provide value to your customer service efforts. If you notice a pattern of customer enquiries that aren't being addressed by your canned responses, it may be the right time to update your canned response.
By taking the time to create effective canned responses templates, you can save yourself a lot of time and effort while also providing your end-users/customers with clear and concise information.
12 Best Canned Response Templates for Customer Service
As a customer service agent, you are responsible for responding to countless customer enquiries on a daily basis. However, some questions and concerns can be repetitive, which can be time-consuming and draining.
Canned responses offer a solution to this issue, allowing you to address frequently asked questions in a swift and effective manner.
In this section, let's explore some of the best canned response templates that your customer service team can use to enhance communication and increase productivity in their customer service emails.
1. Greeting the customers
A warm and welcoming greeting can set the tone for the entire interaction. Whether it's a simple 'hello' or a more personalized greeting with the customer's name, starting your email off on the right foot can help to build rapport and establish trust with the customer. A good greeting is not only polite but also makes the customer feel valued and respected.
Canned Response template:
Dear [Customer Name],
Thank you for reaching out to us. We appreciate your interest in our products/services and are happy to assist you with your query. Please let us know how we can help you today.
Kind Regards,
[Agent Name]
[Company Name]
2. Requesting for more details
Sometimes, customers may not provide enough information in their initial query to effectively resolve their issue. Asking for more details in a friendly and professional manner can help to gather the information you need to diagnose the problem and provide an accurate and effective solution to your customers.
Canned Response template:
Dear [Customer Name],
Thank you for contacting us. We would be happy to help you with your query, but we need more information to better understand your issue. Could you please provide us with more details about the problem you are facing? This will help us to provide you with a more accurate and effective solution.
Kind Regards,
[Agent Name]
[Company Name]
3. Accepting a mistake
Accepting a mistake can be a humbling experience, but it's essential to remember that everyone makes mistakes, and it's okay to admit to them. By admitting a mistake and taking responsibility, you can build trust and credibility with the customer, and respect their time.
Canned Response template:
Dear [Customer Name],
We apologize for any inconvenience caused by our mistake. We are committed to resolving the issue as quickly and effectively as possible. Here's what we plan to do [insert plan of actions].
Thank you for your understanding.
Kind Regards,
[Agent Name]
[Company Name]
4. Transferring the issue to another agent
If the issue requires the expertise of another agent, it's important to transfer the issue in a professional and seamless manner. To transfer an issue to another agent, you can start by informing the customer that you will be transferring them to a colleague who is better equipped to handle their specific concern. Make sure to provide the customer with the name of the agent, their contact information, and any other relevant details that may help to facilitate a smooth handover.
Canned Response template:
Dear [Customer Name],
Thank you for contacting us. I have forwarded your request to [insert agent name], who will be able to assist you further. They will contact you shortly.
Kind Regards,
[Agent Name]
[Company Name]
5. Closing your support ticket
After successfully resolving a customer's issue, it's important to let them know that the issue has been fixed. When closing a ticket, it's important to maintain a positive tone and thank the customer for bringing the issue to your attention.
Canned Response template:
Hello [Customer Name],
We are pleased to inform you that we have resolved your issue. We would like to thank you for your patience and understanding throughout this process. If you have any further questions or concerns, please do not hesitate to reach out to us again.
Kind Regards,
[Agent Name]
[Company Name]
6. Putting on hold
When putting a support ticket on hold, it's essential to communicate clearly with the customer to avoid frustration or confusion. You may want to consider offering alternatives or temporary solutions if possible, so the customer doesn't feel completely left in the dark. Also, be sure to follow up within the estimated timeframe you provided, even if it's just to update them on the situation.
Canned Response template:
Hello [Customer Name],
Thank you for contacting us. We are currently investigating your issue and need to gather more information before we can proceed. We will put your ticket on hold for the time being and will be in touch as soon as we have more information. We estimate that this will take [timeframe]. Thank you for your patience.
Kind Regards,
[Agent Name]
[Company Name]
7. Sending links to useful resources
In some cases, you may need to provide customers with links to resources that can help them solve their issues. This can include knowledge base articles, tutorials, YouTube videos or other helpful resources that you have available. Not only does this save them time and frustration, but it also helps to build trust and credibility with your customers by showing them that you are willing to go the extra mile to provide them with the support they need.
Canned Response template:
Hello [Customer Name],
Thank you for contacting us. We understand that you are having an issue and would like to provide you with some helpful resources. Please visit [link] for more information on how to resolve your issue. If you have any further questions or concerns, please do not hesitate to reach out to us again.
Kind Regards,
[Agent Name]
[Company Name]
8. Sending special offers and promotions
Sometimes, you may want to provide customers with special offers or promotions to show your appreciation for their business. This can help to build customer loyalty and is a great way to show your customers that you care about their needs and want to provide them with added value. It's also important to ensure that the special offer is relevant and targeted to the customer's needs to avoid spamming them with irrelevant promotions.
Canned Response template:
Hello [Customer Name],
Thank you for being a loyal customer of Desk365. On the occasion of Thanksgiving and Black Friday, we would like to show our appreciation by offering you [offer details] as you're one of our long-time and valued customers. We hope that you will take advantage of this offer and continue to be with us in the future. Thank you for your business.
Kind Regards,
[Agent Name]
[Company Name]
9. Updating the Ticket Progress
Keeping customers informed about the progress of their ticket can go a long way in building trust and satisfaction. Additionally, canned responses can help your support team to streamline their workflow and reduce the time and effort required to provide updates to customers, allowing them to focus on resolving issues more efficiently. This ensures that your customers receive consistent and professional updates throughout the ticket resolution process, which can have a significant impact on their overall experience with your brand.
Canned Response template:
Hello [Customer Name],
We wanted to give you an update on the progress of your support ticket ([Ticket ID]). Our support team has been working diligently on your issue and we're happy to let you know that we have identified the problem and are currently working on a solution. We will keep you updated on the progress and let you know when the issue is fully resolved.
If you have any questions in the meantime, please don't hesitate to contact us.
Kind Regards,
[Agent Name]
[Company Name]
10. Setting Out-of-Office Email
When you or your support team members are on leave due to a national holiday or an office event, setting an out-of-office email is crucial. Customers should be informed of the absence of the person who would normally assist them, along with an alternate contact person who can help. This will avoid customers feeling ignored or left in the dark. It's also important to make sure the message includes the expected date of return so that customers can know when to expect a response.
Canned Response template:
Hello,
Thank you for reaching out. I am currently out of the office and will not be able to respond to your email until [date of return]. For any urgent matters, please contact [alternate contact person and their email/phone number]. I apologize for any inconvenience this may cause and appreciate your understanding.
Kind Regards,
[Agent Name]
[Company Name]
11. Notification of New Product Releases
Keeping customers up to date on new product releases can be a great way to keep them engaged and interested in your business. You can use a canned response to create a template that you can easily customize with details about your new product release. Make sure to include a brief overview of the new product, its benefits, and any relevant launch details, such as the launch date or special promotions.
Canned Response template:
Hello,
I wanted to share some exciting news with you. We will be launching a new product, [product name], on [launch date]. This product is designed to [brief overview of benefits].
We are offering a special promotion of [promotion details] for the first [number] customers who purchase the product. If you have any questions or would like to learn more about [product name], please don't hesitate to reach out.
Kind Regards,
[Agent Name]
[Company Name]
12. Requesting the Customer to Share a Review
Customer reviews are a crucial component of any successful business. They provide valuable feedback for improving products or services and can help attract new customers. Consider providing a direct link to your review page can simplify the process for the customer and increase the likelihood of them leaving a review.
Canned Response template:
Hello [Customer Name],
We hope that you are enjoying your experience with [Company Name]. We would greatly appreciate it if you could take a few minutes to leave a review of our product/service. Your feedback is valuable to us, and it helps us improve our offerings for all customers.
Here's a link to our review page: [Insert link]
Thank you for your time and support. If you have any questions or concerns, please don't hesitate to reach out to us.
Kind Regards,
[Agent Name]
[Company Name]
Overall, integrating canned responses into your communication strategy can help you work more efficiently and effectively. With these tools at your disposal, you'll be better equipped to handle any situation that comes your way.
How to Set and Use Canned Responses in Desk365
In conclusion, leveraging canned response templates fosters better customer engagement by enabling support agents to respond promptly and efficiently to enquiries, fostering meaningful interactions and building stronger relationships with customers.
Most help desk software solutions, like Desk365, offer canned responses feature that allow teams to easily create and manage their pre-written templates, making it simple to update and add new templates as needed.
Editing, deleting, and managing canned responses is also easy using a help desk solution. Teams can easily update existing templates if there are changes to the information or if the response needs to be revised. Additionally, new templates can be created as needed to address new situations or enquiries.
These are the steps to create a Canned Response in Desk365.
1. Log in to your Desk365 account and go to Settings > Productivity > Canned Responses.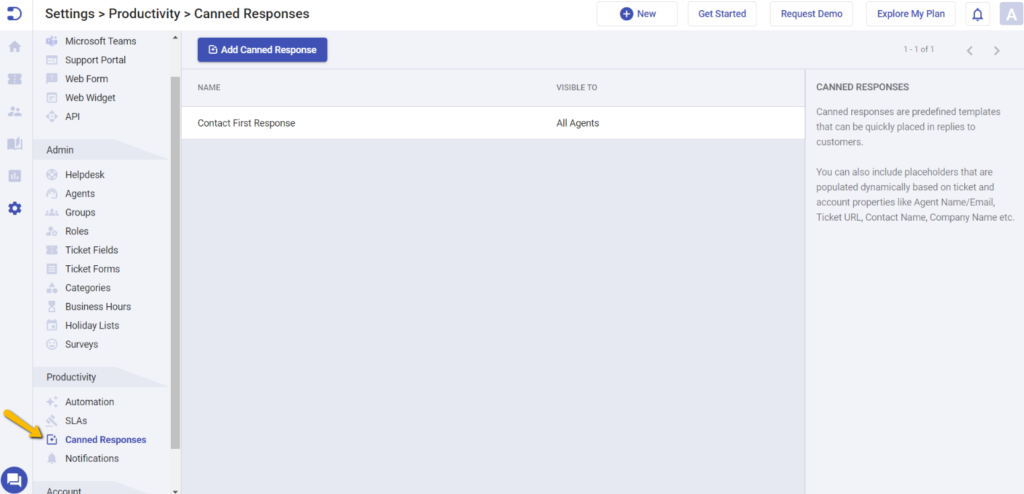 2. Click on the 'Add Canned Response' button present at the top.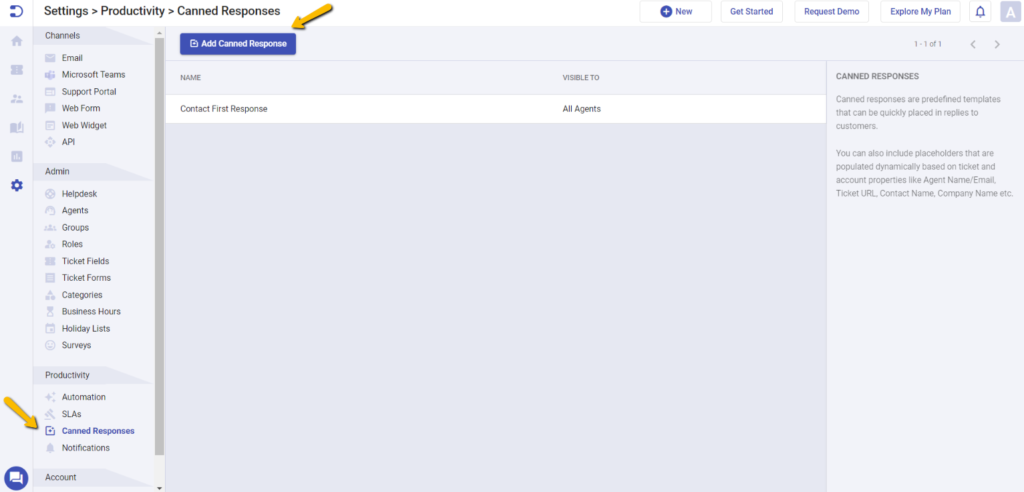 3. Provide a name to this Canned Response and enter the message you want to save as a Canned Response.
In Desk365, you can also include placeholders that are populated dynamically based on the ticket and account properties.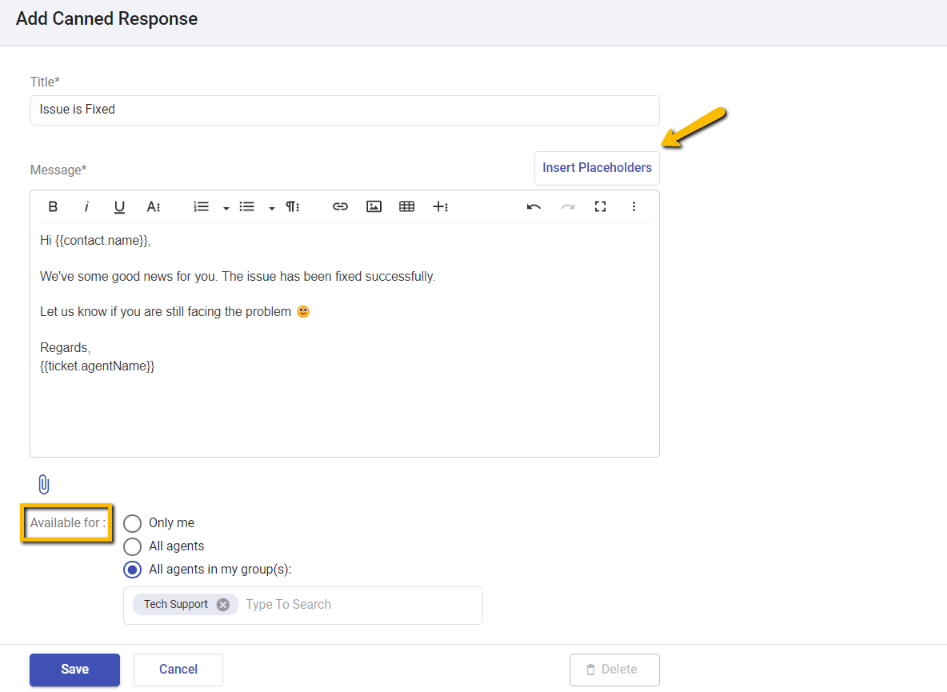 4. Choose whether you want this Canned response for all agents in your helpdesk, a specific group or just for yourself. Finally, click on the 'Save' button to create this 'Canned Response' template.
In Desk365, you can create unlimited canned responses according to your business requirements. This article covers in detail how to create and use Canned Responses in Desk365.